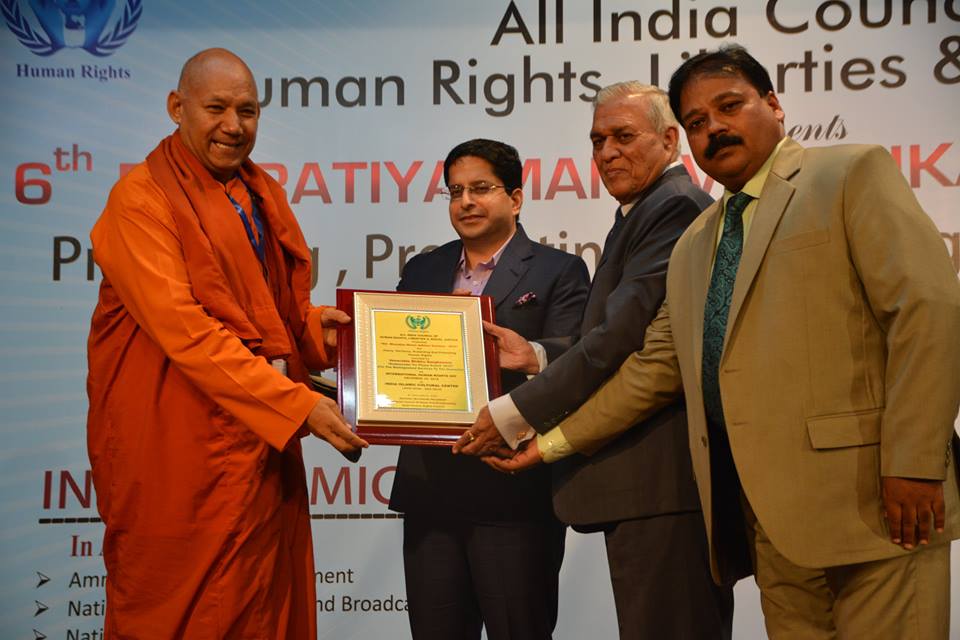 On the occasion of the International Human Rights Day 2016 and the 6th BHARATIYA MANAV ADHIKAR SAMMAN Award Ceremony at the India Islamic Centre Auditorium- New Delhi, on the 10th of December 2016, the All India Council of Human Rights,Liberties and Social Justice -(AICHLS) along with National Council of News and Broadcasting(NCNB), Asian Human Rights Council (AHRC) , Amnesty Worldwide (AW) , Universal Mission For Peace And Harmony (UMPH) And International Institute Of Human Rights Studies (IIHRS)" presented the prestigious "Ambassador for Peace Award- '2016" to Most Venerable Bhikkhu Sanghasena Maha-Thera Founder President and Spiritual Director of MAHABODHI INTERNATIONAL MEDITATION CENTRE, Leh Ladakh for his outstanding contribution for Peace , Harmony , Protecting and Promoting Human Rights and service to Humanity. The award is Human Rights Council's (AICHLS) most prestigious Human Rights Award given to Individuals/ World Peace Leaders / Business Leaders / Institutions / Organizations / Corporate, who show exceptional leadership in the fight to protect and promote Human Rights and service to humanity. The award included the coveted institutional and Prestigious International Human Rights Awards" The 6th BHARATIYA MANAV ADHIKAR SAMMAN – 2016" along with a "CERTIFICATE OF EXCELLANCE".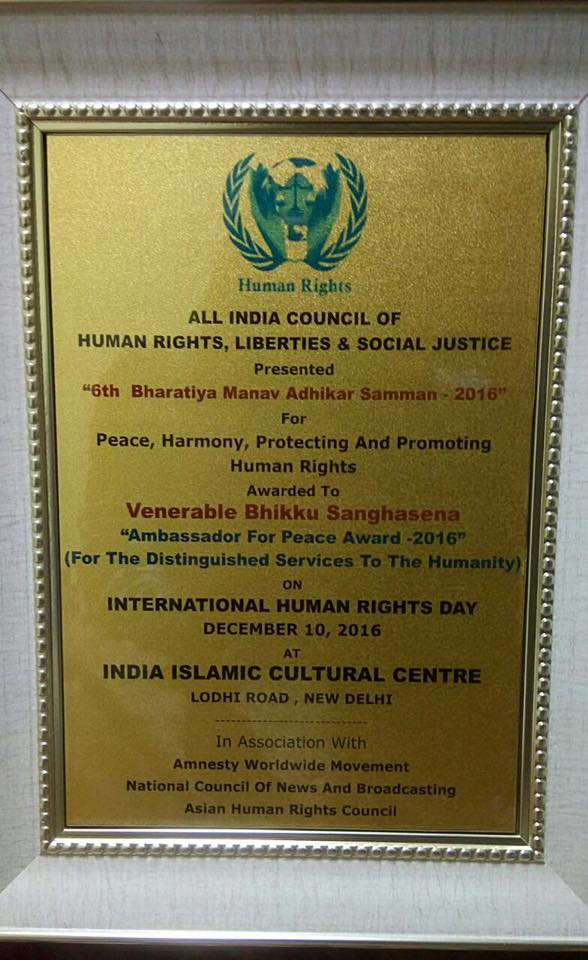 Governors from various states , Human Rights Commission , Social Activists, Religious Leaders, Social NGO, Foreign Diplomat, United Nation, Ministers , Members Of Parliament , IAS , IPS, Judiciary , Advocates ,Sports, Film Industry , RWA , Journalists , Bureaucrats , Doctors, Engineers, Chartered Accountants, Law Colleges, Universities, School etc. from all over the India and Globally were the guests present for the ceremony.
Speaking on the occasion Venerable Bhikkhu Sanghasena in his short thought-provoking speech he said, "I am being a monk who is following a path of renunciation, the award does not matter much, but it will certainly matter much for all my staff, members and supporters who have been offering their dedicated service humanity through my organization for last over 35 years. With all my humility, on behalf of the people of Leh Ladakh and all my dear supporters, staff members and friends, I will accept this prestigious Award and dedicate it to all those who are committed for peace, justice and human right". While expressing deep appreciation to the chairman and the board members of the NCNB for honoring all those who are rendering selfless service to humanity, he quoted the words from the Mahamangla Sutta- discourse of Lord Buddha " Honoring those who are worthy of honoring brings great blessings"….