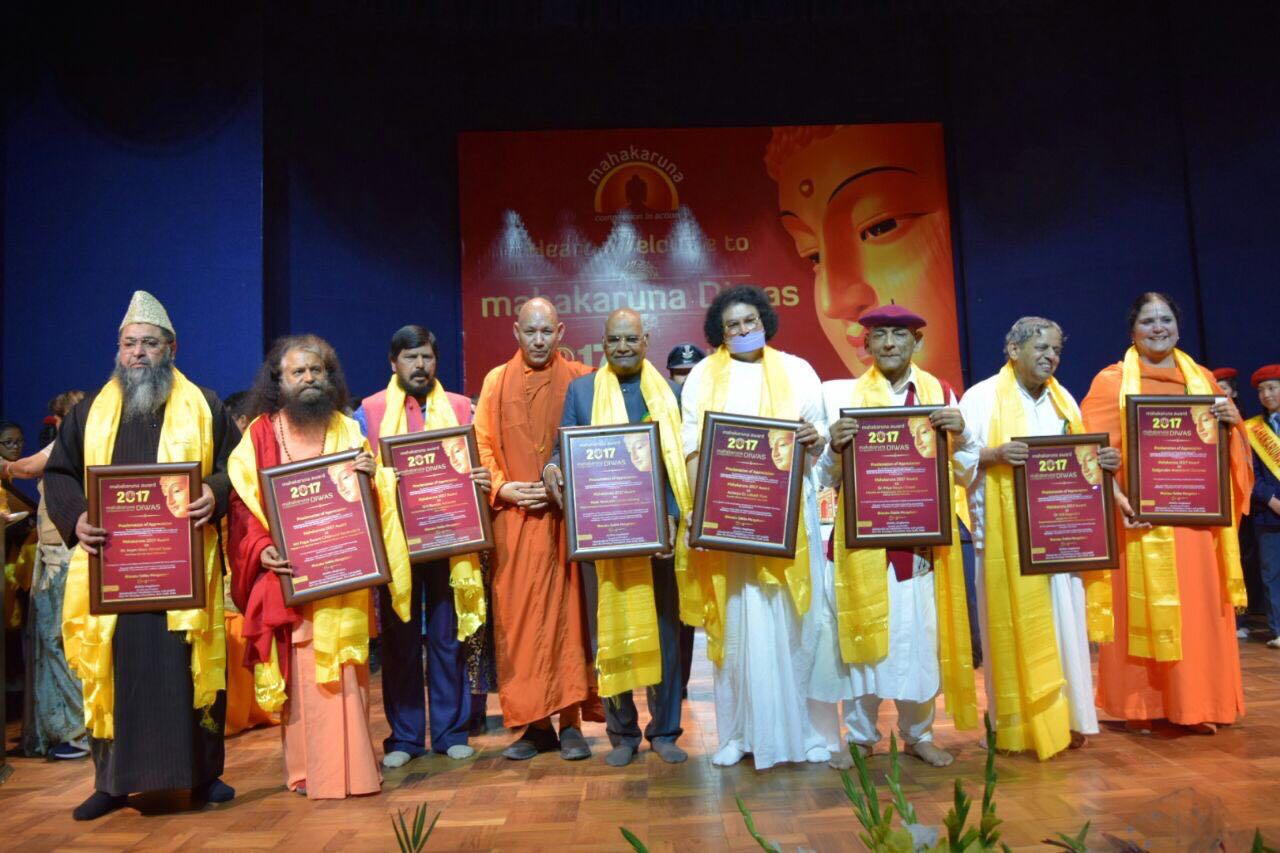 As world is facing numerous challenges of violence and hatred, MIMC is deeply developing the vistas of humanity and filling the gap with helping the needy and supporting the lives of helpless souls.
Currently, MIMC is delivering more than 64 transformative social programs, each of which perfectly align with our Prime Minister's national social initiatives, and which are also in alignment with the UN's 2030 Global Vision, which calls for the achievement of 17 Goals of Sustainable Development.
Recollecting what it truly means to be "human", our shared humanity, and our inter-relatedness with the living environment that surrounds and sustains us, the most urgent and pressing need of our time is clearly Mahakaruna – Great Compassion, which has the power to transform all before it.
In pursuance of its objectives, MIMC has organised the "Mahakaruna - Compassion in Action" event for the past 4 years, and the response has been tremendously positive. Spurred on by this success, this year's event(s) will be bigger and bolder than ever before, so that the message of Mahakaruna will spread far and wide.
"This year's second Mahakaruna Diwas was successfully concluded on 4th Febuary, 2017 at Nehru Memorial Museum and Library Auditorium. The program was started sharp 4 o'clock as soon as the Chief Guest arrived in the Auditorium. We are happy and honoured that the Honorable PMO IndiaShri Narendra Modi tweets and gives us his best wishes for our Mahakaruna Day Celebrations. The program started with national anthem followed lighting of Holy lamps and invocation. The Chief Guest on the occasion was Shri Ram Nath Kovind, H.E. Governor of Bihar, Union Minister for Women and Child development, Mrs Maneka Gandhi, Union Minister for State Social Justice and Empowerment, Shri Ramdas Athawale, Former Union Minister Dr. Karan Singh, H.E. Li Bhijain, Embassy of Chinese, H.E.Rinchen Lhazom, Embassy of Bhutan, H.E.Apirat Sughondhabhirom, Royal Thai Embassy, Religious Gurus Pujay Swami Chidanand Saraswati (Hindu), H.H Acharya Dr. Lokesh Muni (Jain), Dr. Imam Umer Ahmed Ilyasi (Islam), Anandamurthi Gurumaa (Hindu), Paramjit Singh Chandhok(Sikh faith), Dr. Jacob Mar Barnabas (Christian faith), Dr. A.K.Merchant (Bahai faith), Shri Thupstan Chhewang, Hon'ble Member of Parliament (Ladakh), Most Ven. Lama Lobzang, General Secretary, International Buddhist Confederation, Dr. Tan Ho Soon, President, Nalanda Buddhist Society, Malaysia and many other distinguished graced the occasion. Speaking on the occasion all the speakers talk about Buddha's message of love, compassion and peace very much relevant to the society and have to promote such spirituality to bring peace, happiness among al the beings.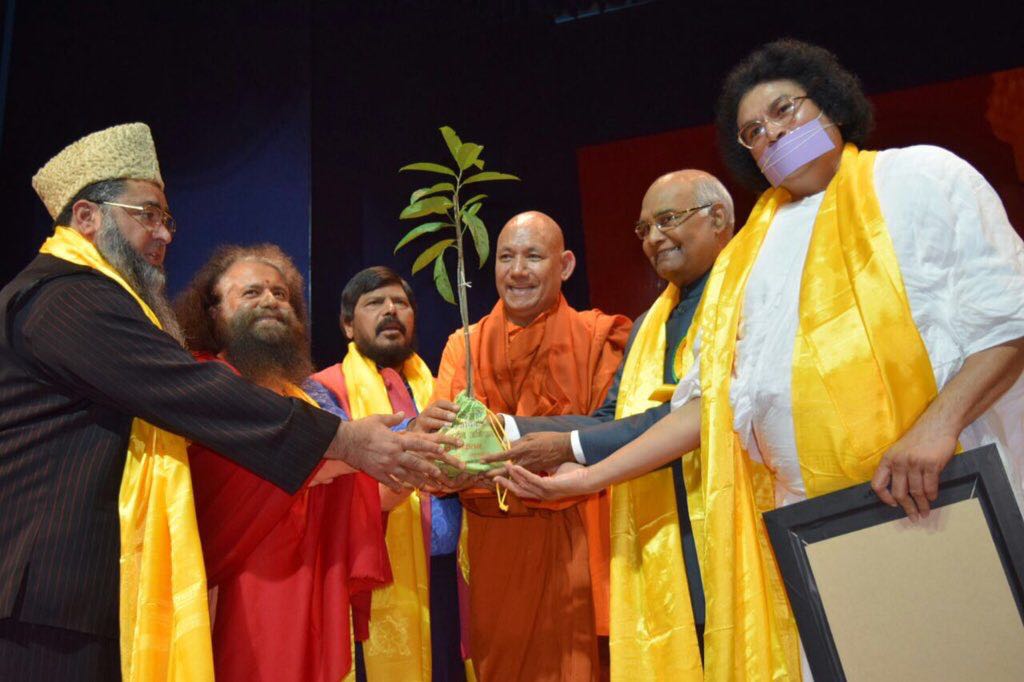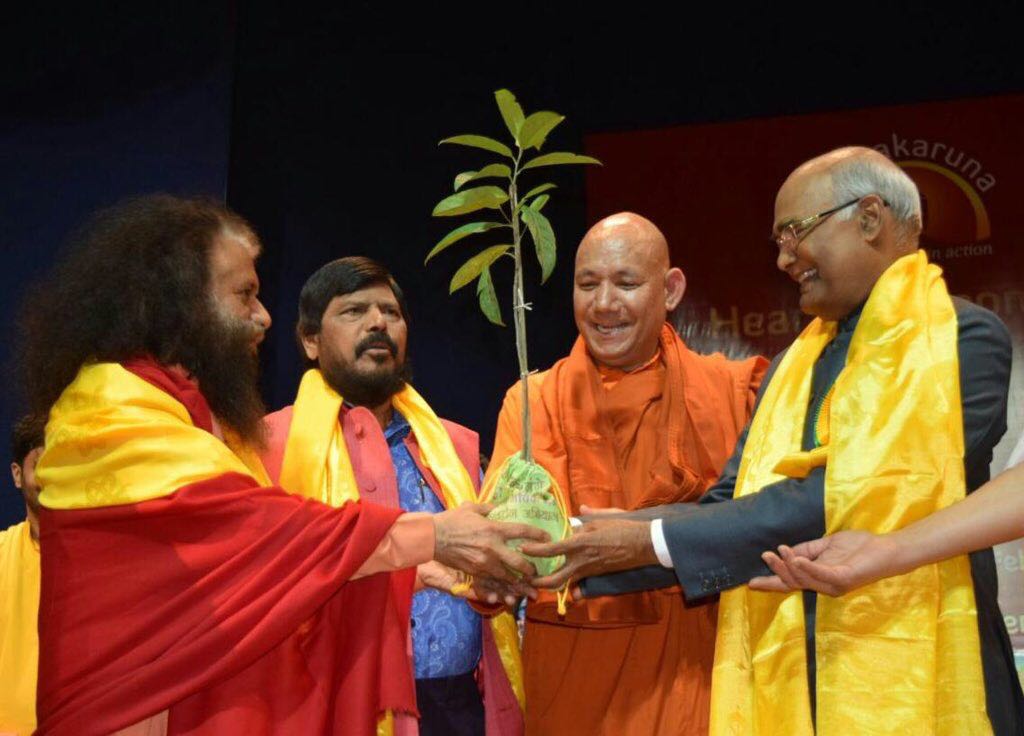 During the occasion, a documentary film on MIMC humanitarian activities titled "Sanghasena, the silent reformer"- based on transformation of lives through compassion in action at MIMC which is produced by Ladakh Vision Group with the kind support from Fetzer Institute from USA, was also screened on the occasion. A special Souvenir Magazine was also inaugurated through hands of the Chief Guest and other dignitaries on the occasion.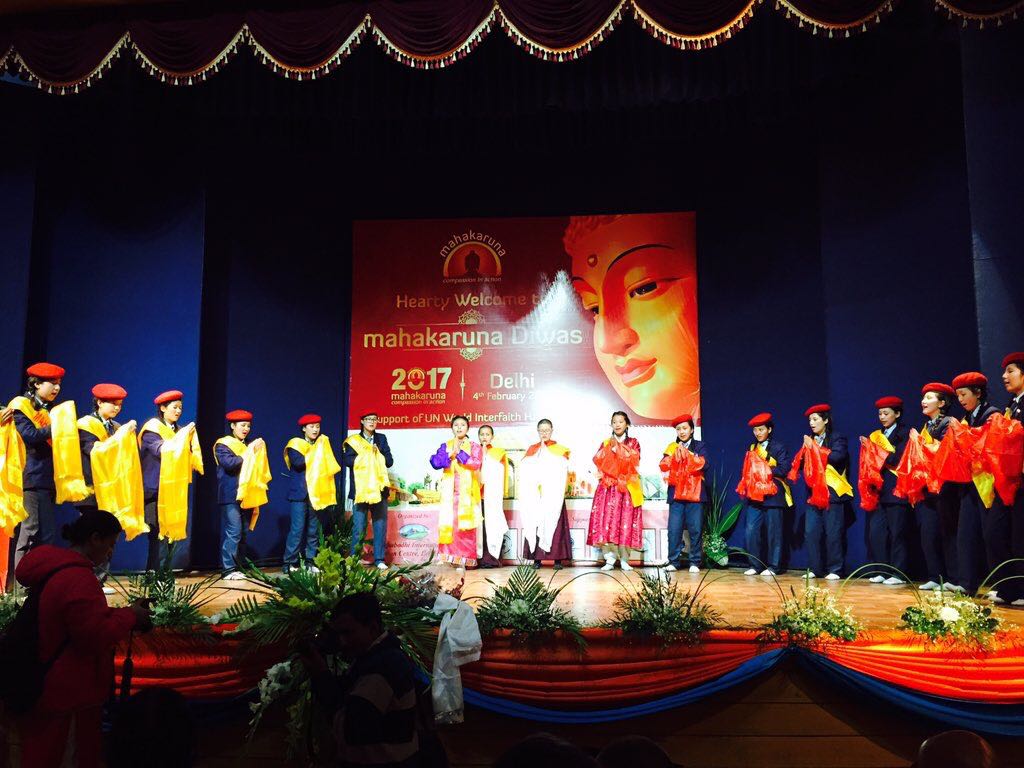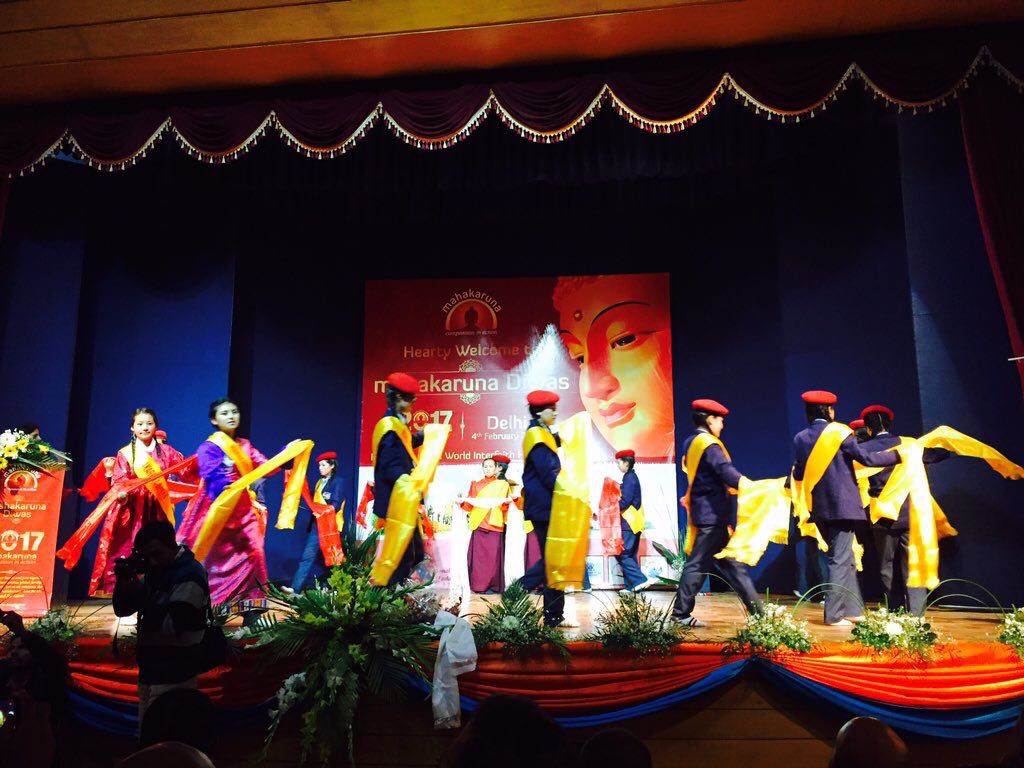 A colourful Ladakhi cultural program by the students of Mahabodhi Residential School, Leh (Ladakh) on the themes of Mahakaruna was also part of the program to inspire and promote the love and compassion among the people. All the audiences were thrilled to see the colourful and meaningful cultural program. A cultural program by students of All Ladakh students Welfare Society also presented a cultural program.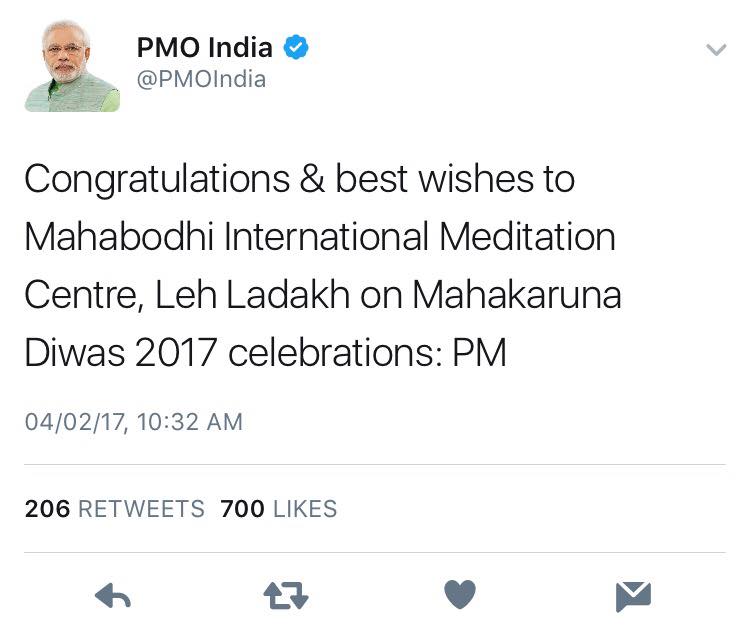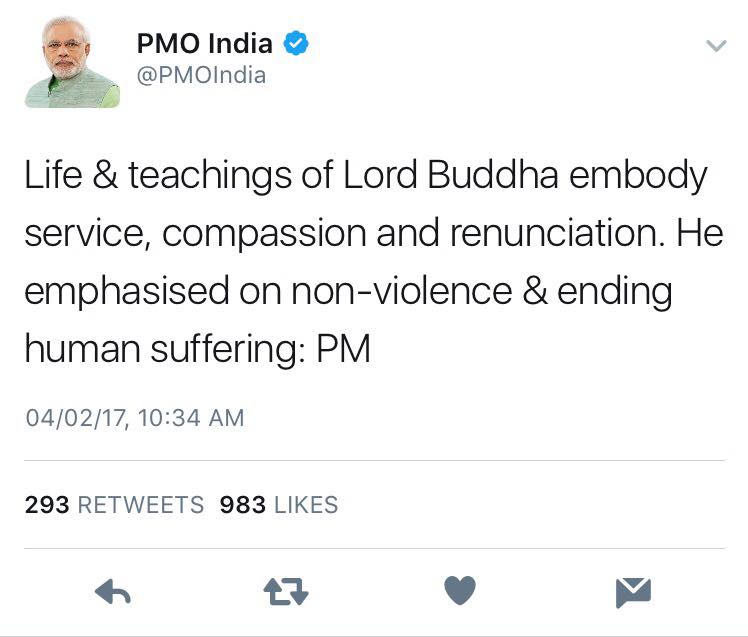 Check the tweets by the Hon'ble Prime Minister here:
Congratulations & best wishes to Mahabodhi International Meditation Centre, Leh Ladakh on Mahakaruna Diwas 2017 celebrations: PM

— PMO India (@PMOIndia) February 4, 2017
Life & teachings of Lord Buddha embody service, compassion and renunciation. He emphasised on non-violence & ending human suffering: PM

— PMO India (@PMOIndia) February 4, 2017
The 5 more events will be celebrated at below different cities in India.
Mumbai – Feb. 7th 2017 at Shivaji Natya Mandir Dadar (W) at 5PM
Nagpur - Feb. 11th 2017 at Deeksha Bhumi
Amravati (Andhra Pradesh) - Feb. 15th2017 at Dhyana Buddha Ground, Dhyana Katakam
Chandigarh - Feb. 19th 2017 at Auditorium M R A Senior Secondary Model School, Sector -27
Jammu - Feb. 22nd 2017 at Zorawar Singh Auditorium at 5PM
Leh-Ladakh – June 2017