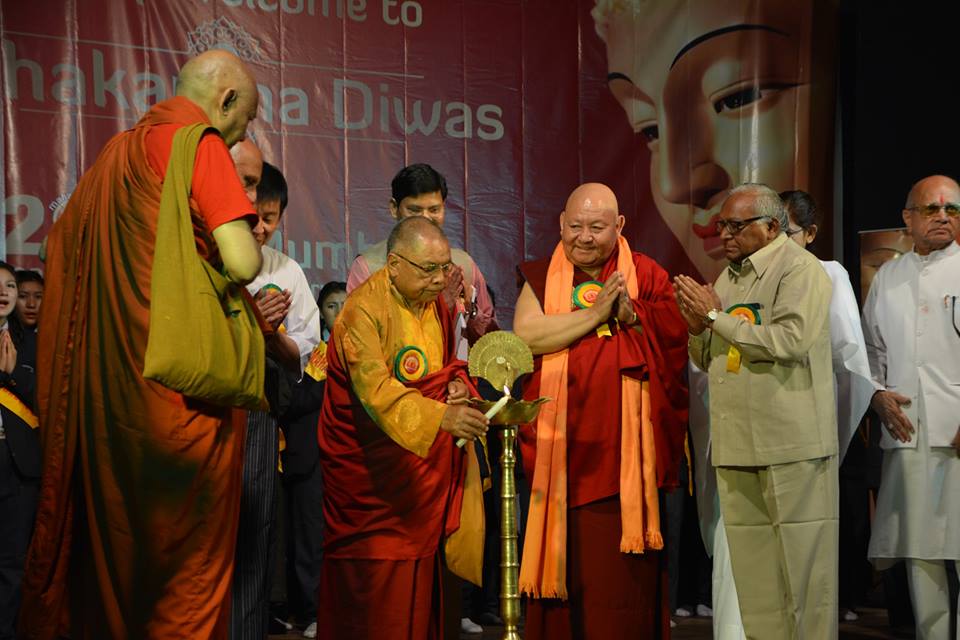 The 3rd Mahakaruna Day of this year was held in our Country's Largest city of Mumbai amidst people from all walks of life including religious leaders from different faith, respected politician and residents of Mumbai as well as from other parts of India. The event was successfully held at the Shivaji Nitya Mandir Dadar, Mumbai.The event was inaugurated by Dr. Tan Ho Soon, President- Nalanda Buddhist Institute, Malaysia and was blessed by Most Ven. Lama Lobzang, Secretary General of International Buddhist Confederation and Most Respected Master Karma Tanpai Gyaltshen from Nepal. Dr. Harshdeep Kamble, IAS and many other religious and gov't officials also attended the program.
All the respected participants expressed their heartfelt thanks, gratitude and support for the compassionate and various spiritual humanitarian services of most Ven. Bhikkhu Sanghasena. The religious leaders offered prayers for the achievement of world peace, happiness and prosperity, whereas the respected leaders and bureaucrats expressed their appreciation for the spiritual contribution and services of Ven. Bhikkhu Sanghasena in different Parts of our great Nation "India" and moreover for promoting genuine peace and "Mahakaruna" Compassion in action in the heart of many.
A series of Cultural Performance base on the theme "Mahakaruna-Compassion" was presented by the young artists of Mahabodhi who have come all the way from Ladakh...