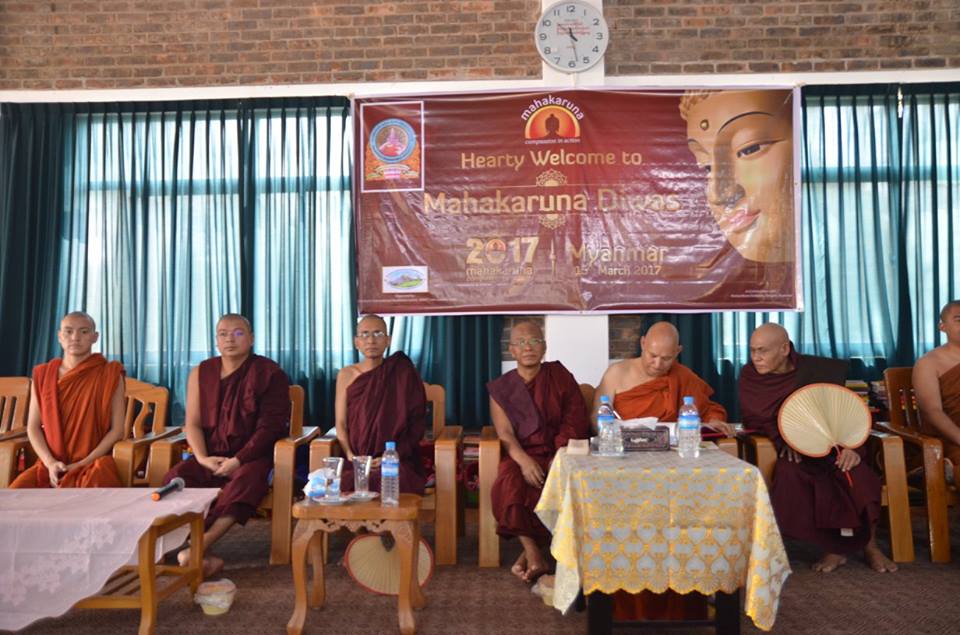 The Mahakaruna Day celebration was held on the 15th of March is the beautiful golden country of Myanmar. The event was organized in collaboration with the Mahavihara Buddhist University and the Dhammadutta Buddhist Monastery and University. Ven. Bhikkhu Sanghasena, the founder and Chairman of the Mahakaruna Day Celebrations traveled all the way to Myanmar for the event. The event was attended by more than one thousand Buddhist monks and devotees. Ven. Bhikkhu Sanghasena delivered an inspiring Talk on Mahakaruna and it's need in today's world which was well translated by Ven. U Ja Garalankara to the non-English speaking participants, a film on Ven. Bhikkhu Sanghasena and his work which was released recently on the Mahakaruna Day celebrations in the 7 different cities of India was also shown to the participants.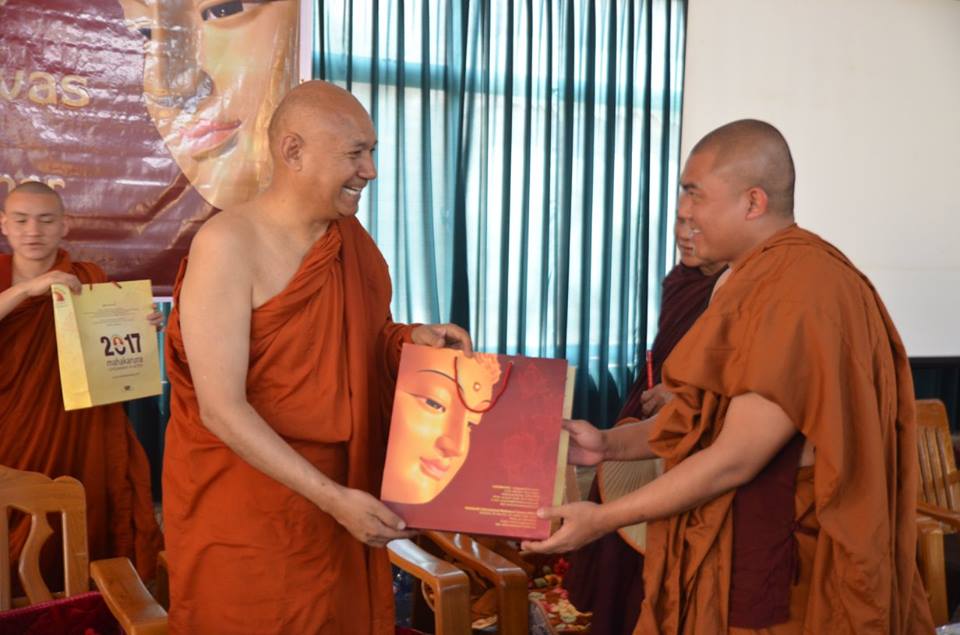 The distinguish Ven. Monks were presented with a Mahakaruna Day souvenir by Ven. Bhikkhu Sanghasenaa. Several senior monks attended and blessed the event. The abbot and chief of the Mahavihara Monastery expressed his thanks and gratitude to Ven. Bhikkhu Sanghasena for initiating this Event "Mahakaruna Day" in today's much needed time. Ven. Bhikkhu Sanghasena extended his invitation to everyone to Ladakh for the Same Mahakaruna Day Program to be held on the 25th of June at MIMC Ladakh. He earlier visited the Sitagu International Buddhist Academy and offered his salutations and greetings to the most respected H.H Venerable Ashin Nyanissara (Sitagu/Thegon Sayadaw) on his 80th Birthday Celebration on Behalf of the entire Buddhist of India and also Invited him for the Mahakaruna day Celebration in Ladakh to which Most Ven. Sitagu Sayadaw shown keen interest in visiting.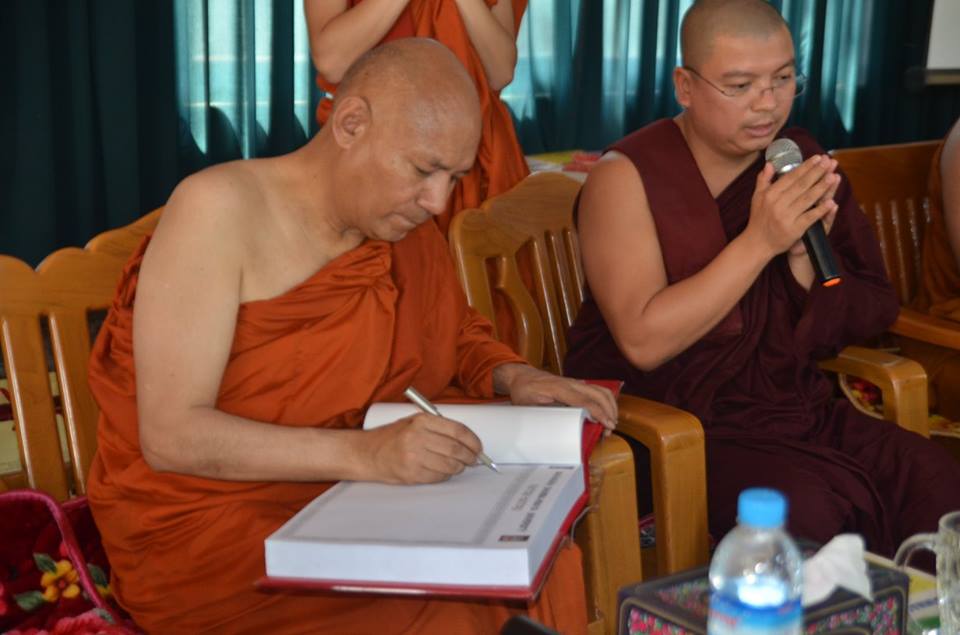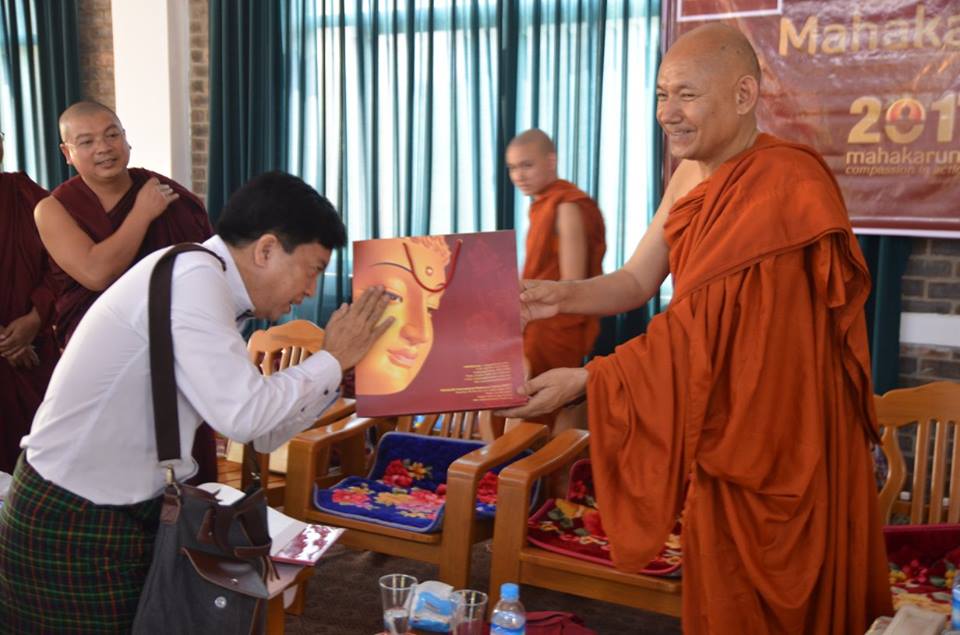 He also invited several other very senior and well respected monks for the celebration. All the Ven. Monks expressed their happiness and deep appreciation to most Ven. Bhikkhu Sanghasena for this very important initiative of him. They also appreciated Ven. Bhikkhu Sanghasena for the wonderful works that he have been doing for the People of Ladakh, for the people of India (Particularly the Buddhist's of India) and for all the entire seekers of truth and lovers of Peace. We the whole team of Mahakaruna Day Celebration would like to extend our thanks and gratitude to Most Ven. Vijjananda Sayadaw, the Chief and abbot of the Mahavihara Buddhist University, Ven. U Ja Garalankara of Dhammadutta Buddhist University, Ven. Wai Pone La and all the other Ven. Monks and devotees in making it a successful event.