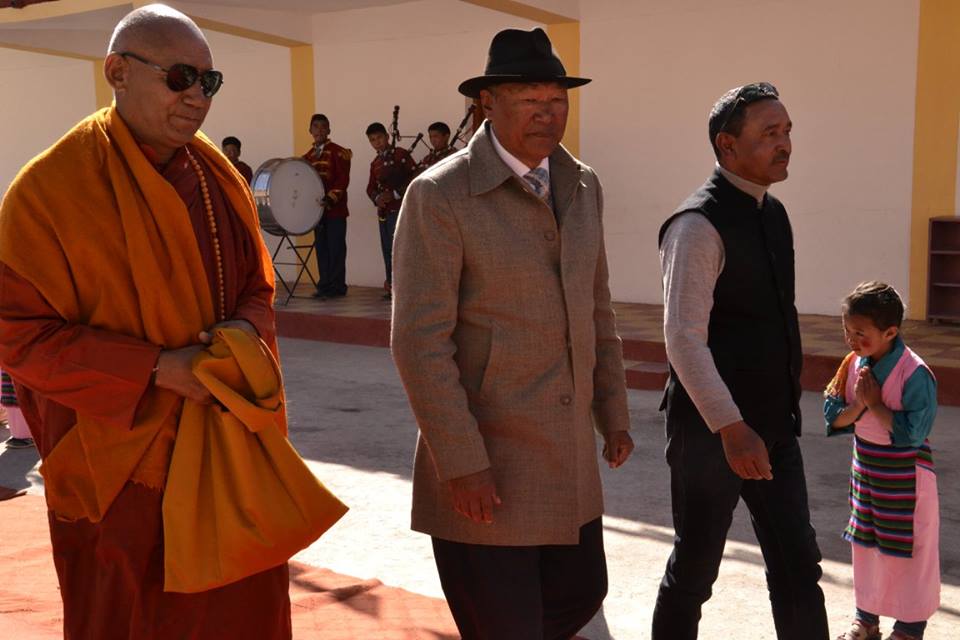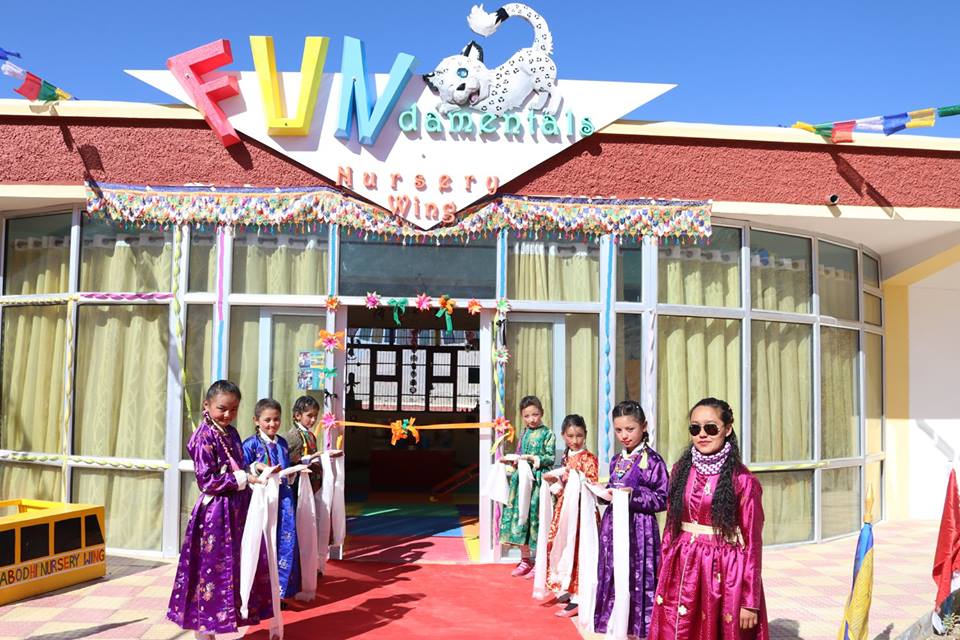 Mahabodhi Residential School have celebrated the annual day celebration and the inauguration of the Pre Nursery Wing called the FUNdamentals onthe 31st of Oct, 2017.
Besides all the wonderful parents of the students and the members of Mahabodhi, large number of distinguished guests were present in the celebration, Sh. Tsering Dorjey, Honble Minister for cooperatives and Ladakh Affairs, Govt of J & K Sh. Dorjey Motup Hon'ble Executive Councillor education LAHDC Leh, Sh. Nawang Rigzin Jora, Hon'ble MLA and President CLP in J & K Assembly, Ms. Avny Lavasa (IAS) Hon'ble Deputy Commissioner Leh, Ms. Sargun Shukla (IPS) Hon'ble SSP Leh, Most Ven. Lobzang Nyantak, Hon'ble Councellor LAHDC Leh, Shri P.T Kunzang, Hon'ble Vice President of Ladakh Buddhist Association and many other esteemed dignitaries were present.
Honorable Minister expressed that everyone should recognize, appreciate and support the noble services render by Mahabodhi.
Shri . Rigzin Jora has as always appreciated Venerable Bhikkhu Sanghasena the service being rendered by him. He said his highest respect goes to Bhikkhu Sanghasena for the selfless compassion, profound vision and the unreserved services which even the Government couldn't do.
A new Pre- Nursery Fundamental wing was also inaugurated. The guests and the parents expressed great joy for this new beautiful innovative and creative new nursery wing. The prime focus of the Fundamental PreNursery Wing is to bring FUN filled educational ambience for the budding children of Ladakh. The FUNdamental is a school that celebrates childhood and at the same time make the little ones learn effortlessly.
On the occasion Hon'ble Executive Councillor (Education) LAHDC Shri. Dorjey Motup, he appreciated and spoke highly about the standard of education at Mahabodhi School and he wish to introduce some into the Government School.
The children presented excellent performances of rich cultural programme including songs, dances and music which touched the hearts of audience.
Principal Ms. Tsewang Dolma expressed her profound gratitude to Ven.Sanghasena for his phenomenal guidance and providing the holistic and most inspiring road map for the teachers and learners of this school, She read out the achievement report of the school. Prizes and certificates were distributed to the meritorious students who have excellently contributed in various scholastic and co-scholastic activities carried on at the school.
On this occasion, nice years old special youngest guest Master Swadeep Kamble, who come with his parents all the from Nagpur delivered an excellent speech appreciating the Life and teaching of Baba Sahib Ambedakar. Bhante Sanghasena presented him the Youngest Speaker Award 2017 with cash prize of Rupees 20,000.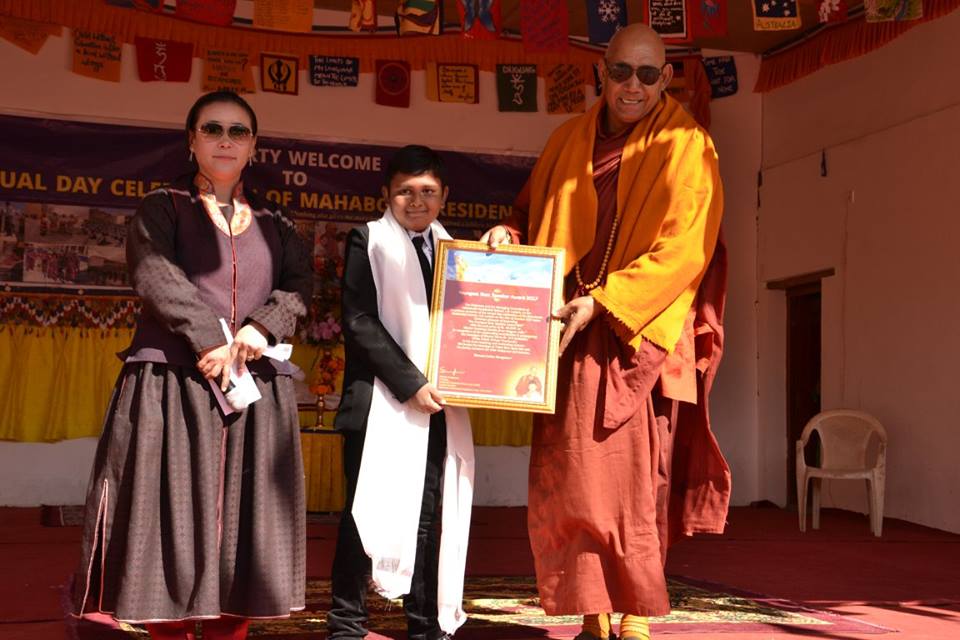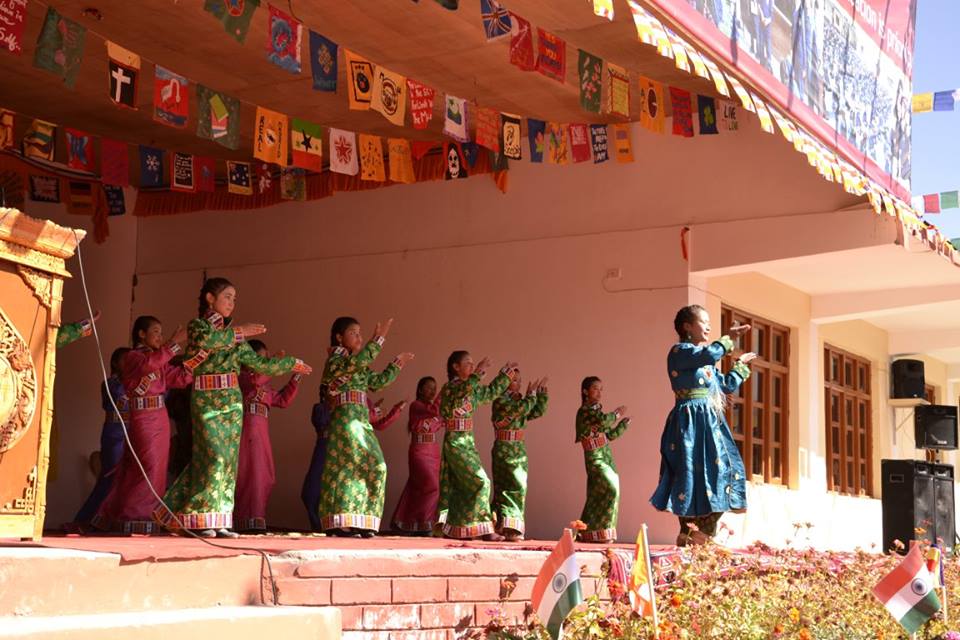 Ven. Sanghasena also appreciated and honored the Principal and the teaching staff for their outstanding performances in providing the best holistic education for the children