Bhikkhu Sanghasena had an inspiring meeting with the Honourable Prime Minister of India Shri. Narendra Modi yesterday morning at his office .The honorable Prime Minister was very kind to receive Bhikkhu Sanghasena ji with great respect.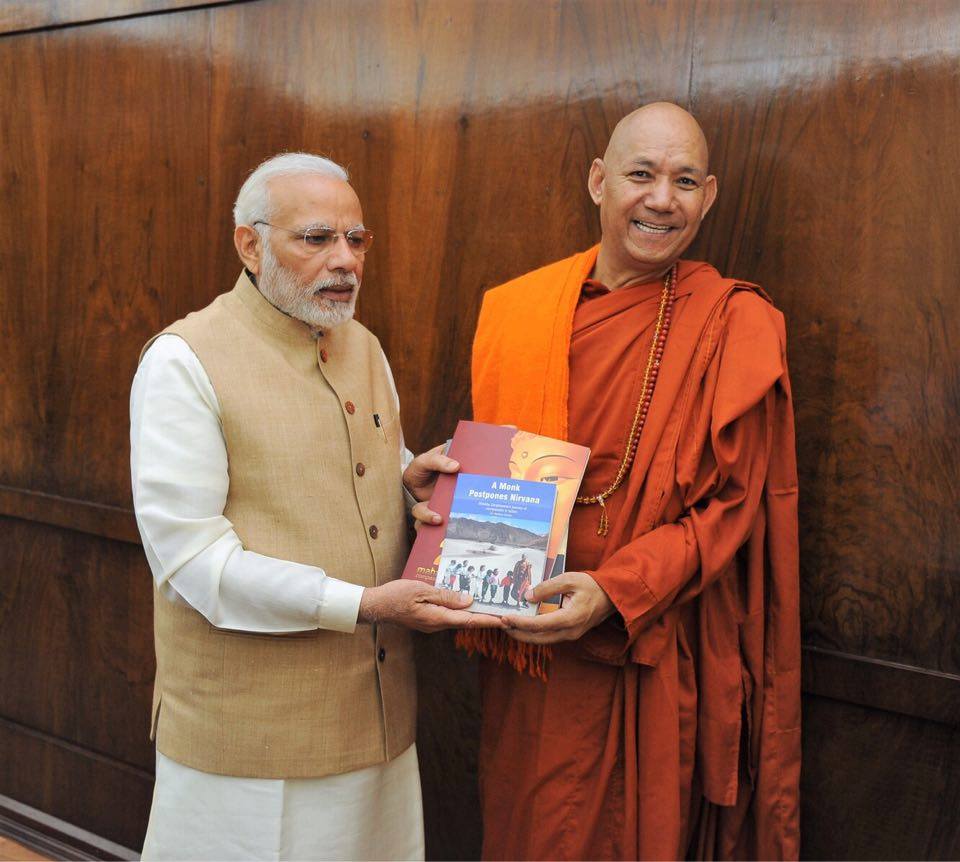 Bhikkhu Sanghasena briefed Shri. Narendra Modiji about the various humanitarian and spiritual programs undertaken by Mahabodhi International Meditation Centre - MIMC and extended invitation to Visit Ladakh . The honorable Prime Minister deeply appreciated the various humanitarian services undertaken by Bhikkhu Sanghasena at Mahabodhi International Meditation Centre - MIMC and shown keen interest to visit Ladakh in the coming summer.
Bhikkhu Sanghasenaji also presented his Book on the "Journey of transformation through Compassion in Action" written by Dr. Vandana Shukla.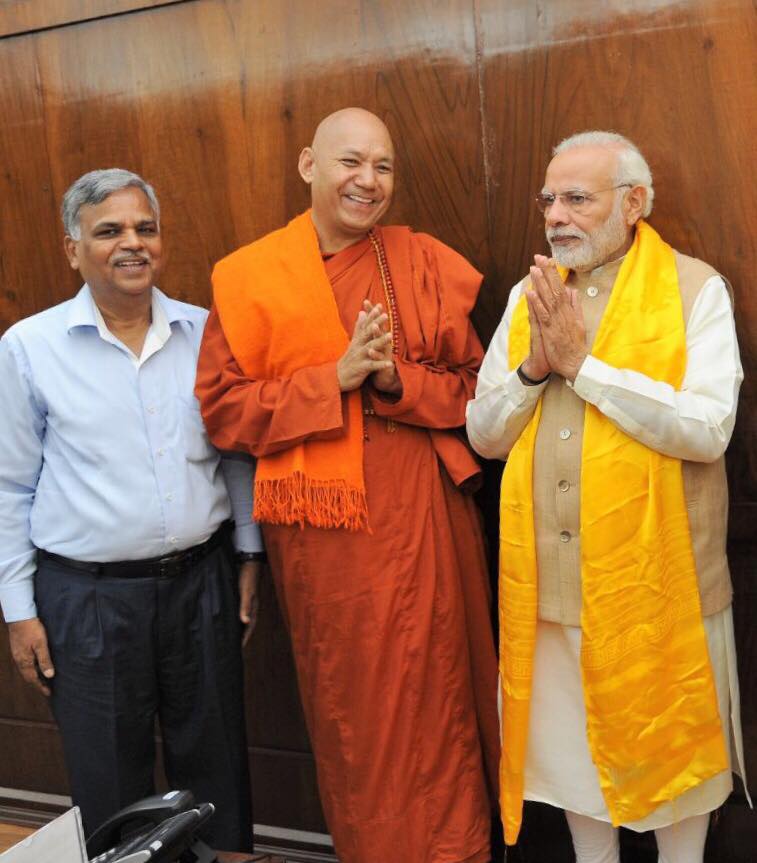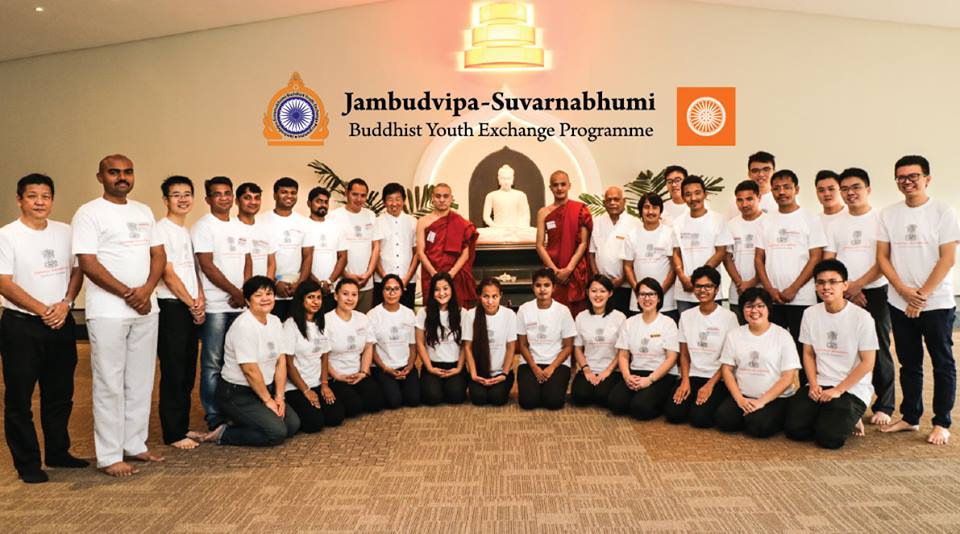 The Nalanda Buddhist Society of Malaysia warmly welcomed the Buddhist Youth group from India for an International Buddhist Youth Exchange Program entitled "Jambudvipa-Suvarnabhumi Buddhist Youth Exchange Program" From the very beginning providing education to the children and spiritual guidance to the youth community has been one of the main concern of the numerous activities prime activities of Ven. Bhikkhu Sanghasena. This year yet another very important youth exchange program took place.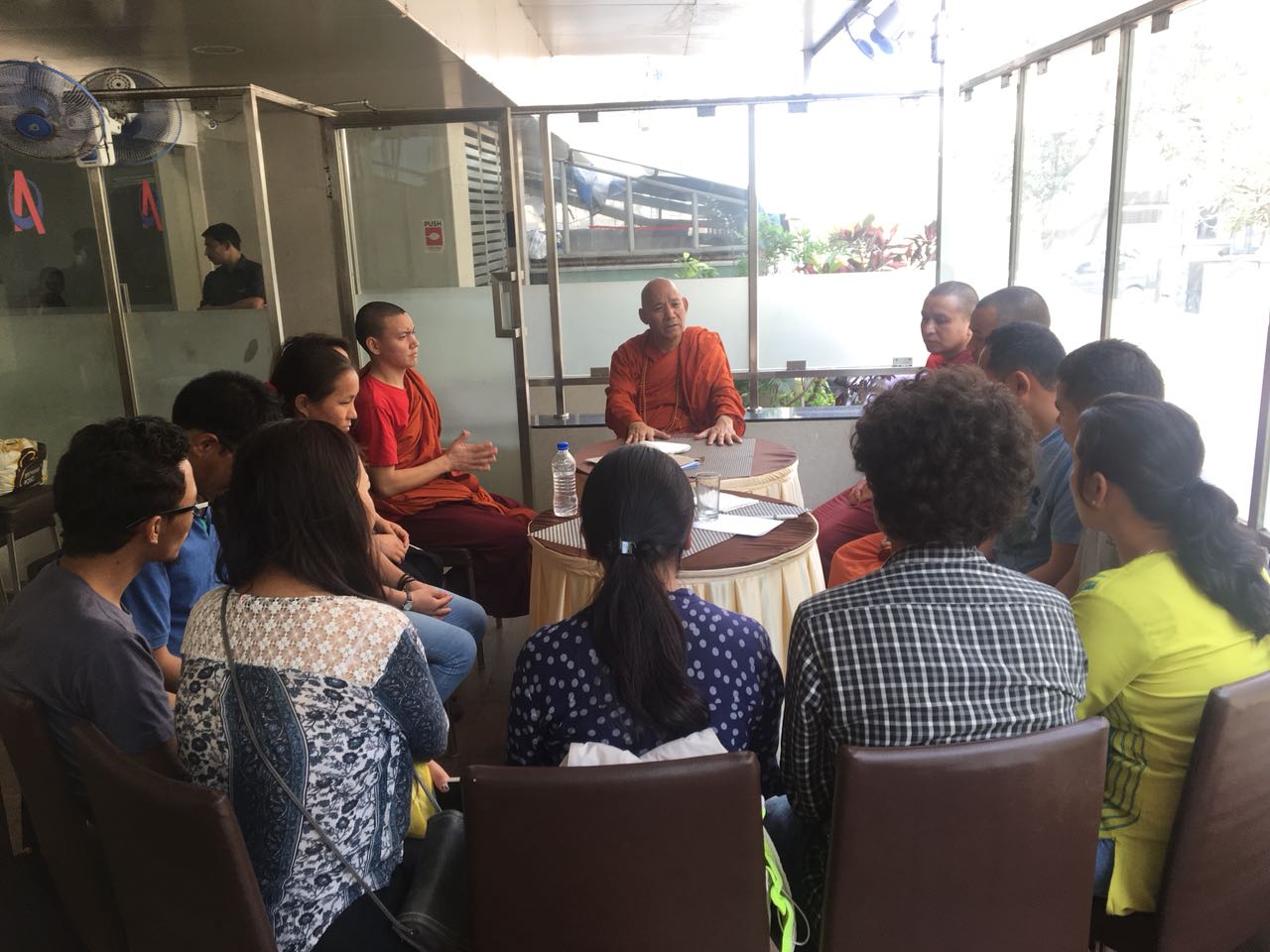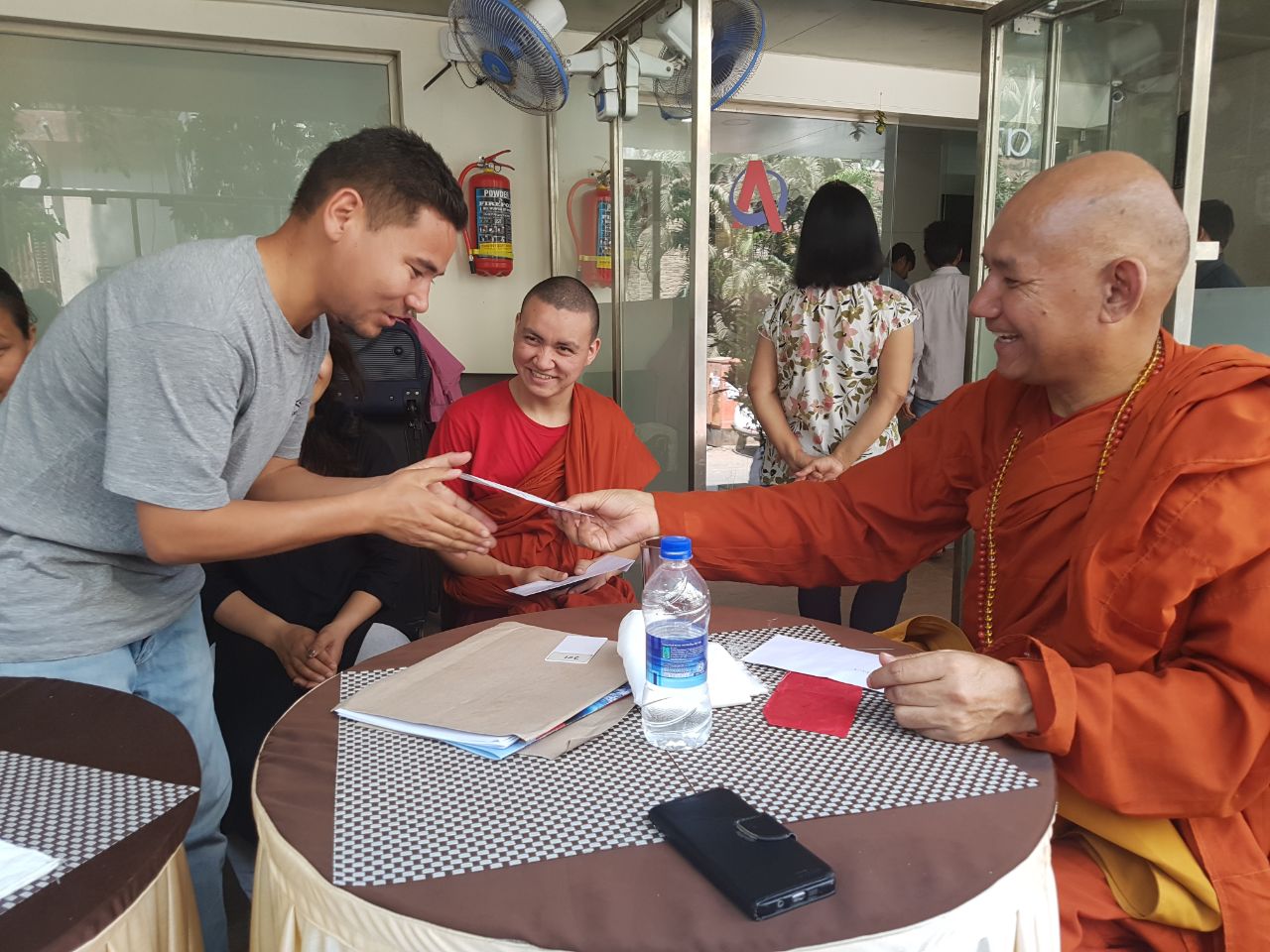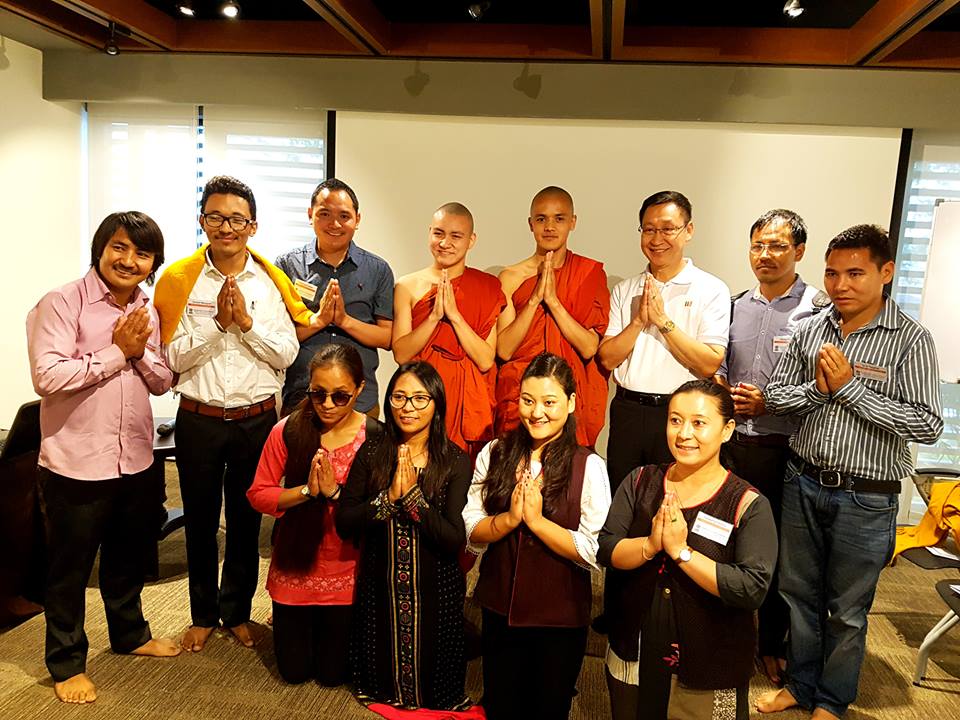 11 young members from the MIMC Youth wing and 8 young members from the New Buddhist Community of the State of Maharastra were selected and sent to Malaysia & Singapore for an International Buddhist Youth exchange Program at the Famous Nalanda Buddhist Society of Malaysia and the Buddhist Fellowship of Singapore.Dr. Tan-the founder and spiritual director and one of the Nalanda Buddhist Society of Malaysia and one of the finest Buddhist scholars have hosted and organised this program in Malaysia. The Youth exchange program in Singapore was hosted by the Buddhist Fellowship. The Youth exchange program proved to be a life transformative one for the entire youth group. The Youth Group with their Malaysian counterparts received trainings on Leadership skills, Buddhist Studies, Meditation, Chanting and Cultural lessons etc. The youth group were fortunate to participate in the public talk by the renowned Buddhist Master- Ajahn Brahmavamso. Both the organisations in Malaysia and Singapore have been very old and close associates of Ven. Bhukkhu Sanghasena. This Youth Program is the beginning of yet another initiative of Ven. Bhikkhu Sanghasena's aim at revitalising Buddhism in it's birthplace, India.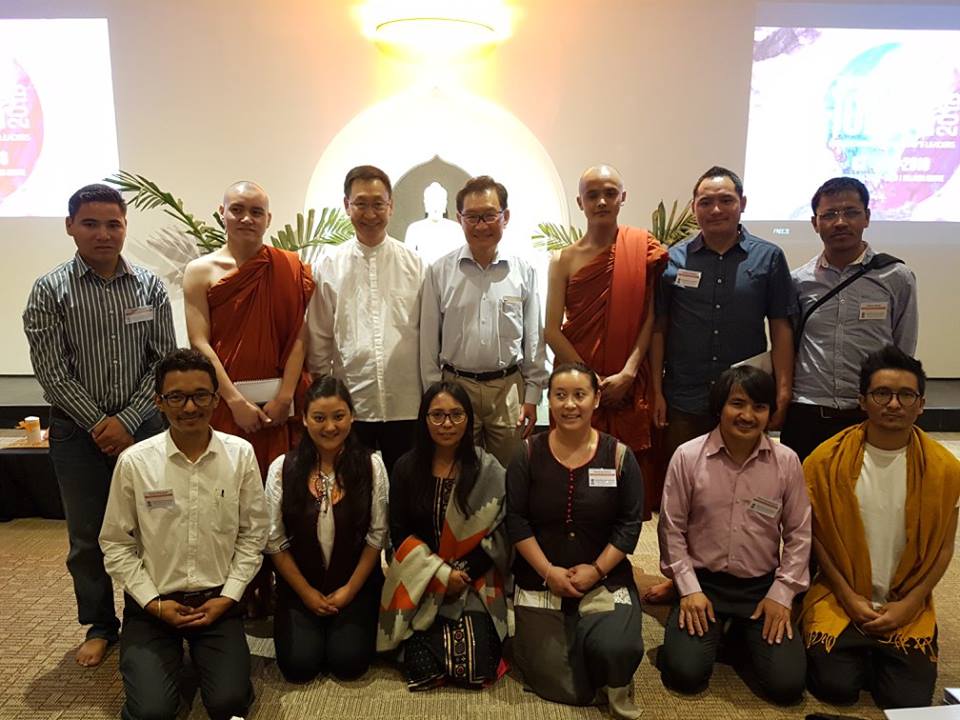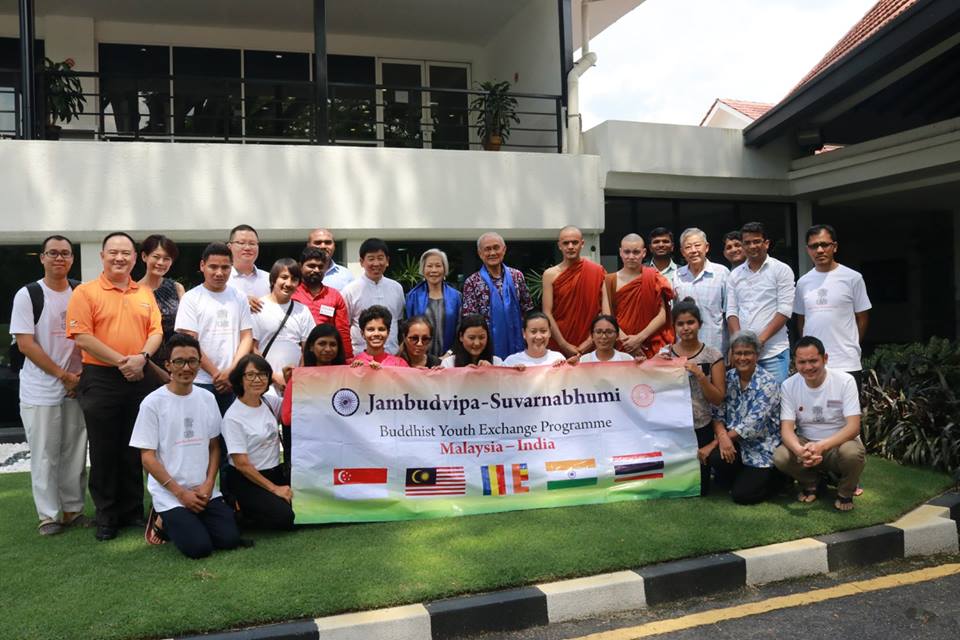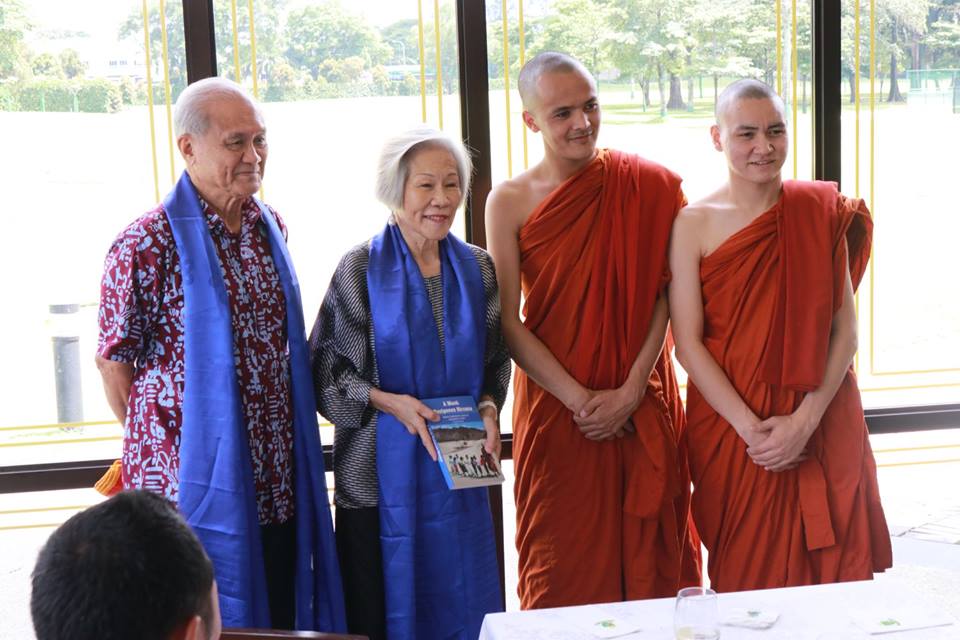 We hope to organise more such programmes on a larger scale in the future. We deeply appreciate Dr. Tan and his Entire team of Nalanda and the President and Members of Buddhist Fellowship of Singapore for their generous efforts in making this Buddhist youth exchange Program such a great Success. Ven. Bhikkhu Sanghasena often says that the Future of the world depends on the young Generation and the Young Generation depends on the kind of Guidance and inspiration they receive from their Parents, teachers, leaders and Mentors. It is therefore very important to impart spiritual education and training to them.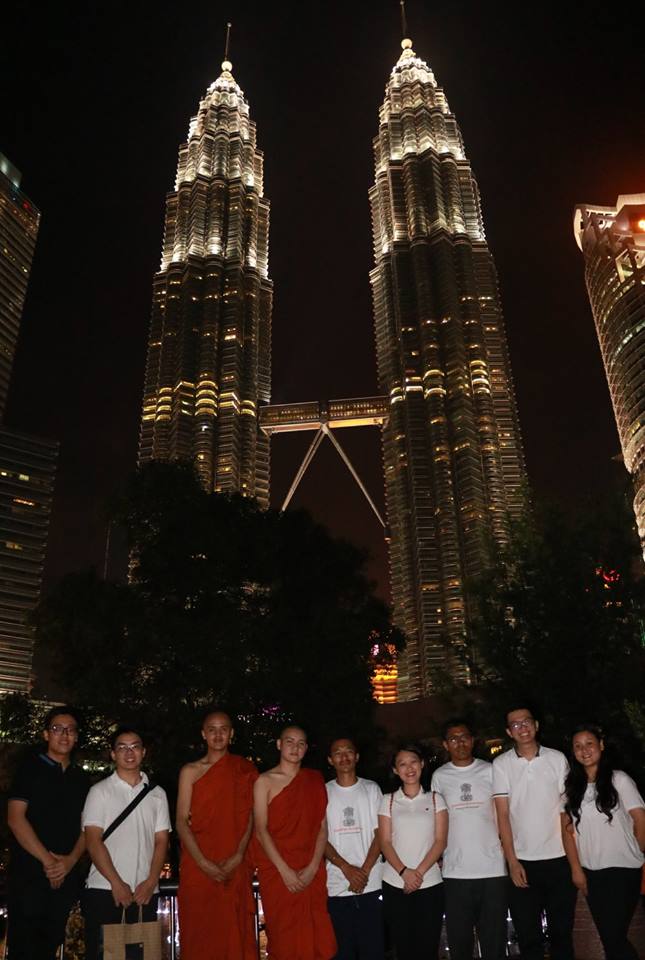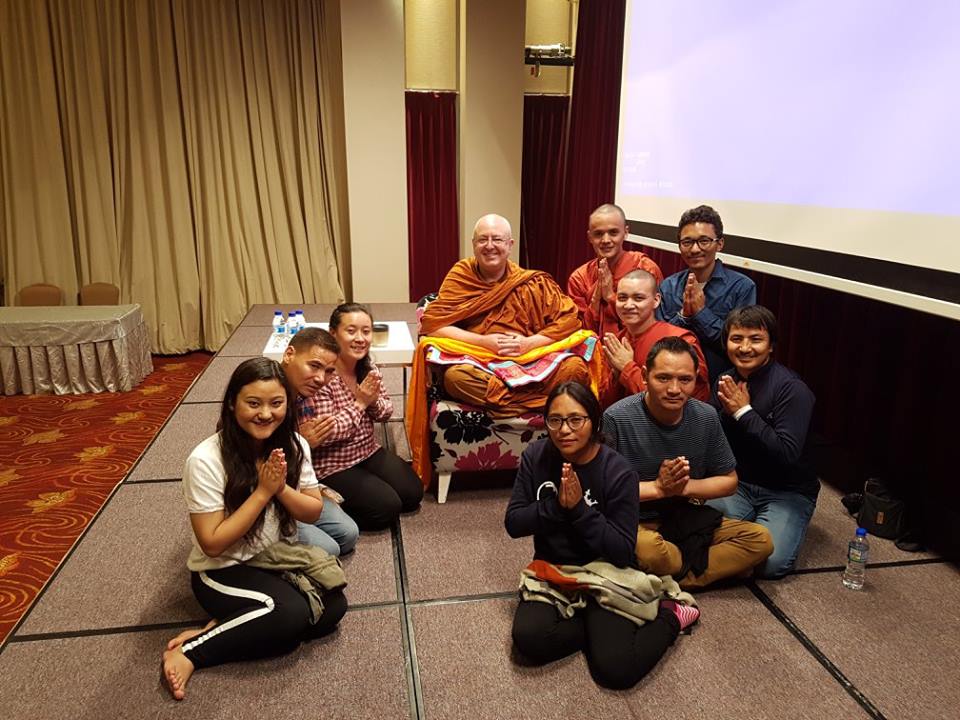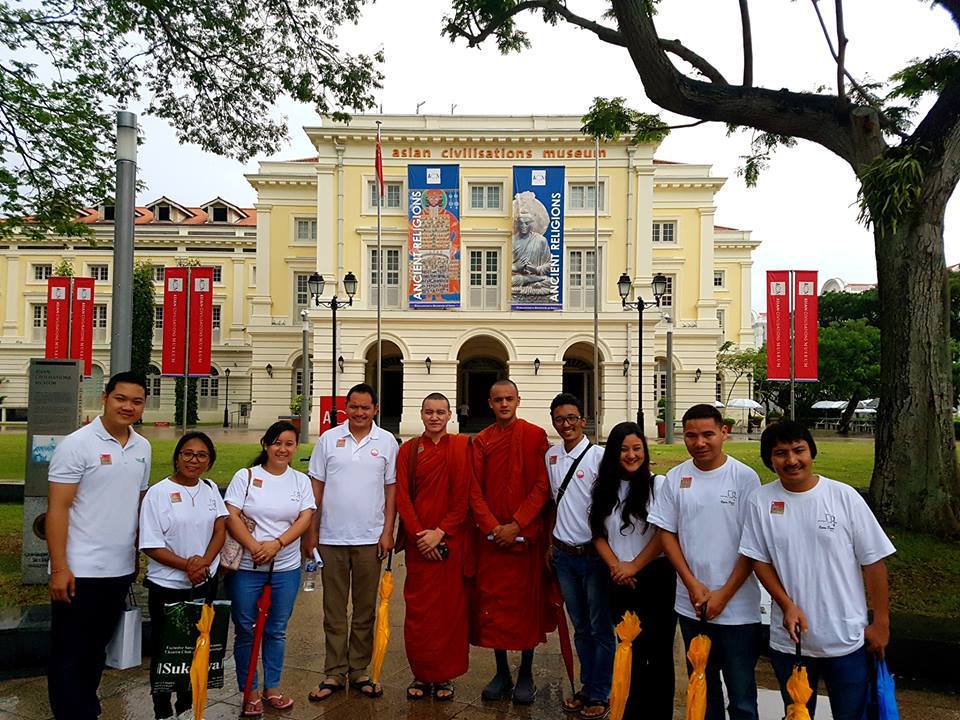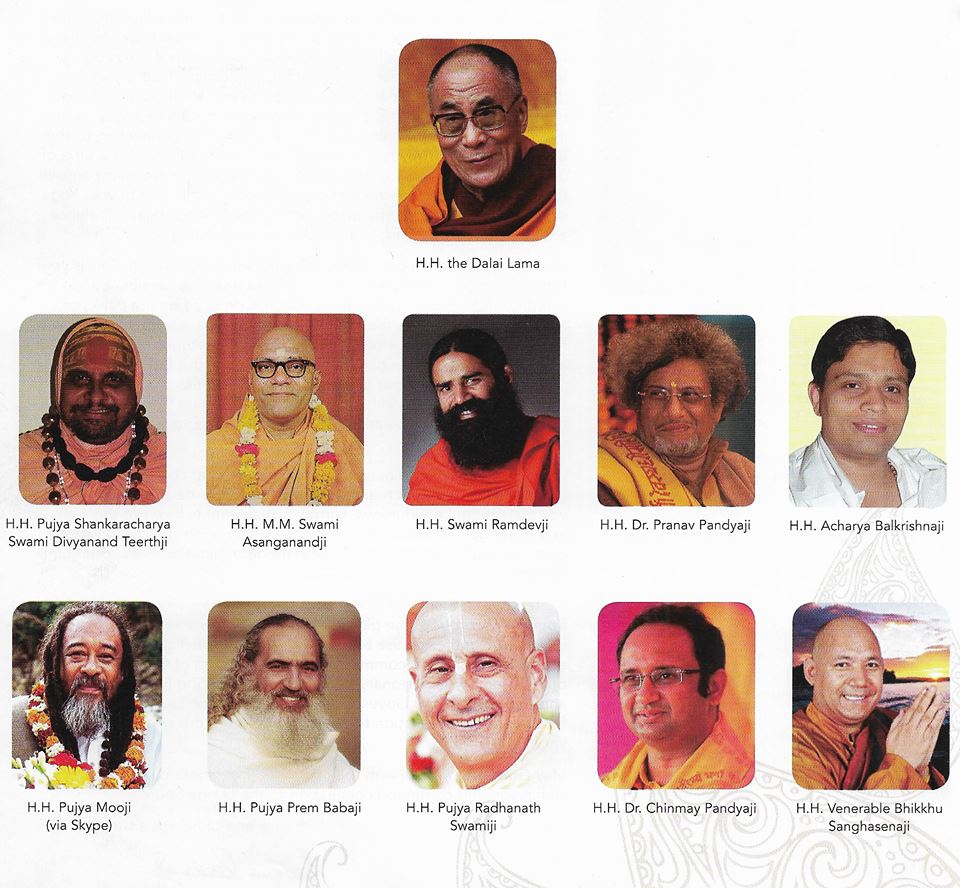 Ven. Bhikkhu Sanghasena was invited as one of the guest speakers and to lead Buddhist Meditation Session during the world-renowned, 29th annual International Yoga Festival in Rishikesh, Uttrakhand. The Famous Yoga Festival was attended by more than 2000 people, who came from 96 countries across the world to take part in inspiring lectures and courses by over 80 revered saints, yogacharyas, presenters and experts who taught nearly 200 offerings throughout the week. The Vice President of India Shri. M Venkaiah Naidu Yoga Guru Swami Ramdev among many distinguished guests also graced the famous Yoga Festival.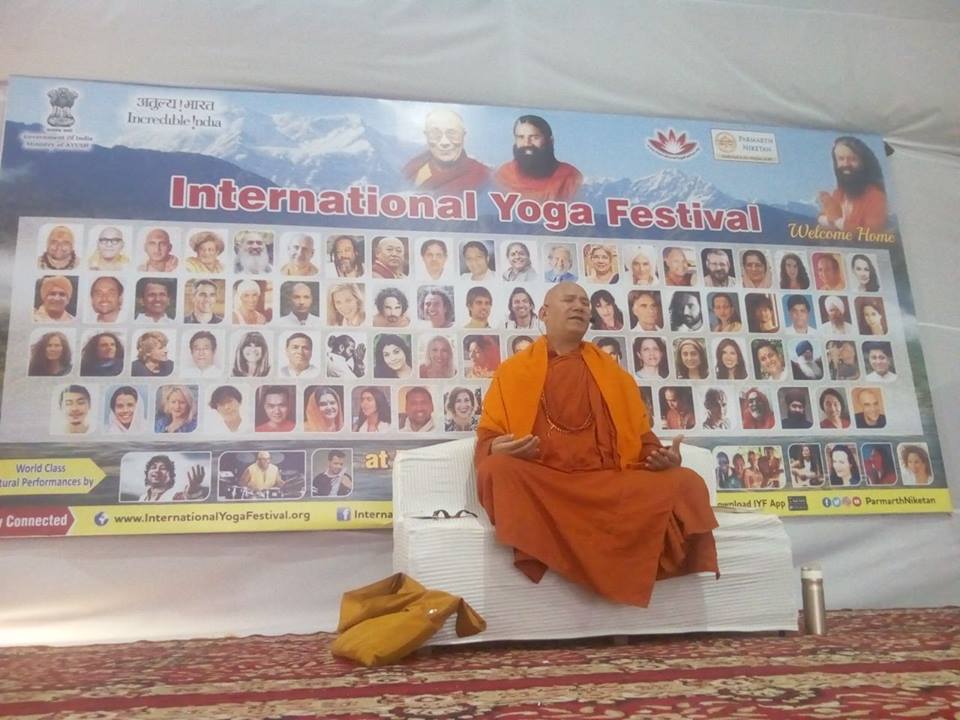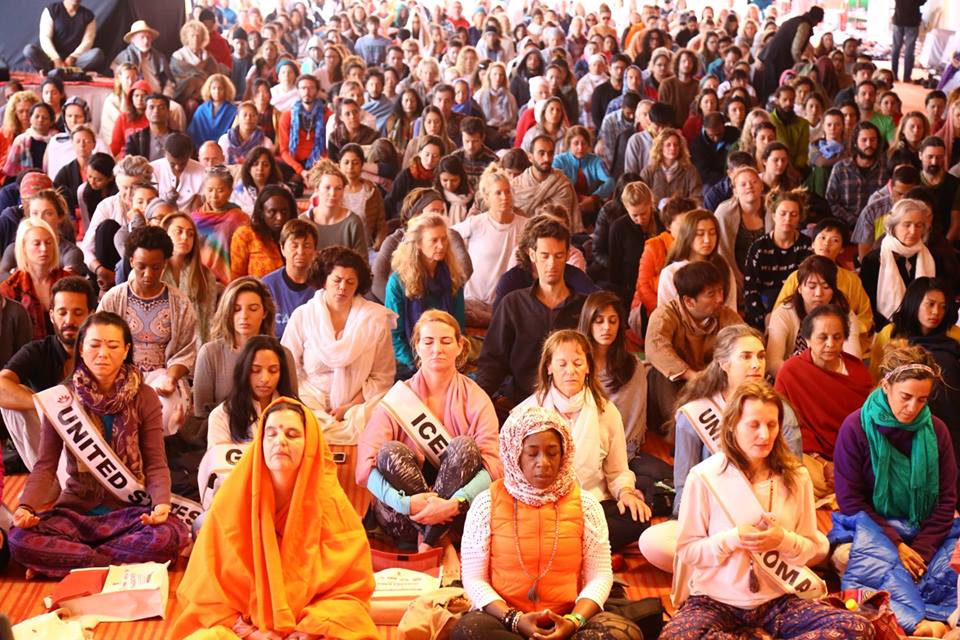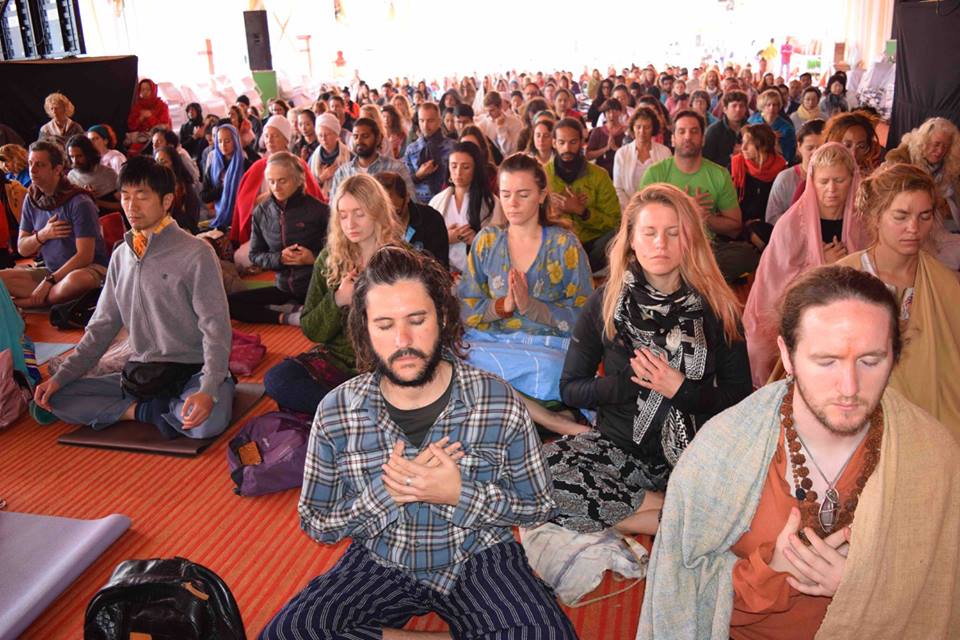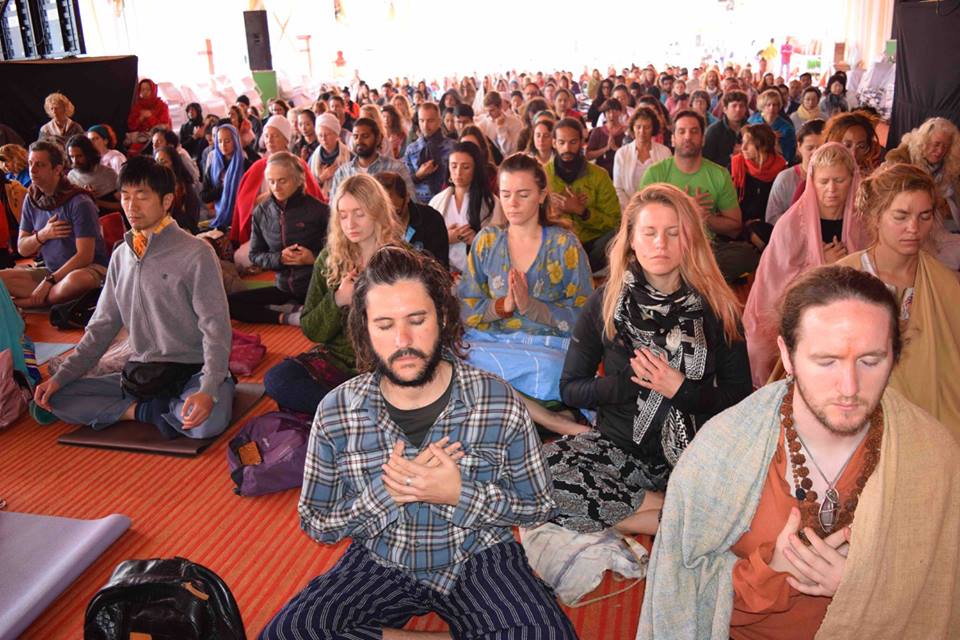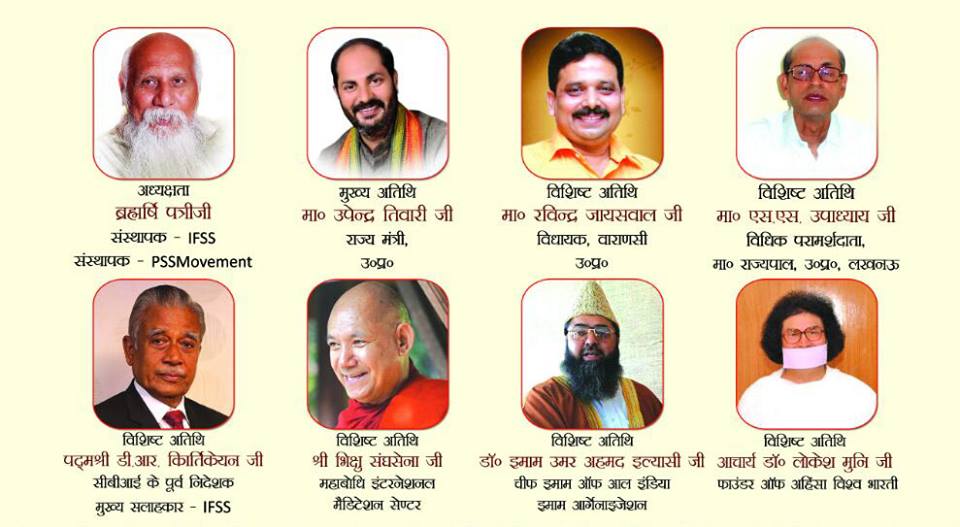 Ven. Bhikkhu Sanghasena was invited as one of the keynote speakers during the International Conference of Science and spirituality organised by the International Federation of Spiritual Scientists (IFSS) under the blessings and guidance of Brahmashri Patri ji Founder and spiritual director of Pyramid Spiritual Societies Movement (PSSM) at the famous Banaras Hindu University (BHU).. More than 2000 people participated in the conference.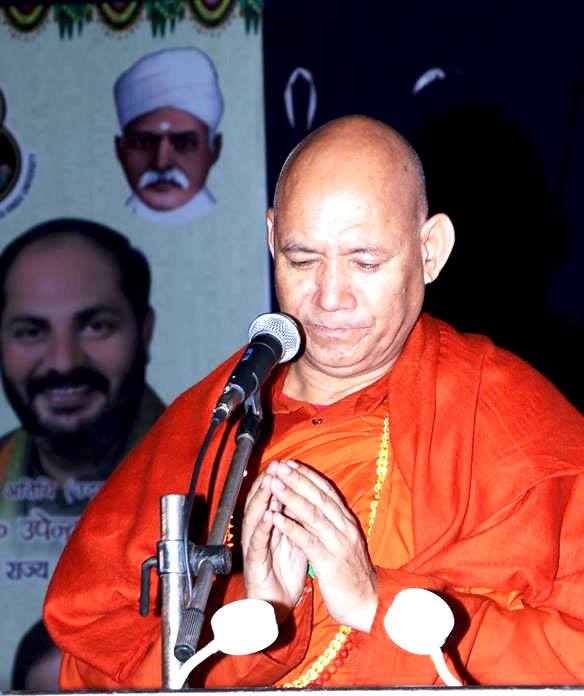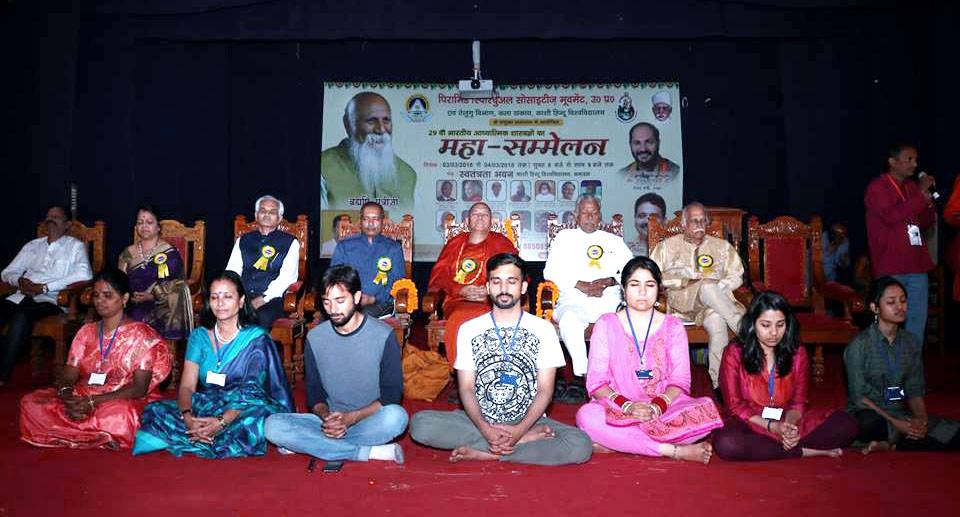 Ven. Bhikkhu Sanghasena in his speech said " Religion and science, Materiality and spirituality, Inner Values and outer Values, Head and Heart, Physics and Metaphysics, Psychology and Ecology, Philosophy and Technology, Meditation and Medication, All must work in Balance and in Harmony!
Scientists must learn meditation to avoid the misuse of scientific technology; Religious masters must make their religion scientific to avoid blind faith. Religion must be scientifically religious and science must be religiously science. They must work in consultation with each other. Synthesis of these two religion and science will bring greatest blessings to the world"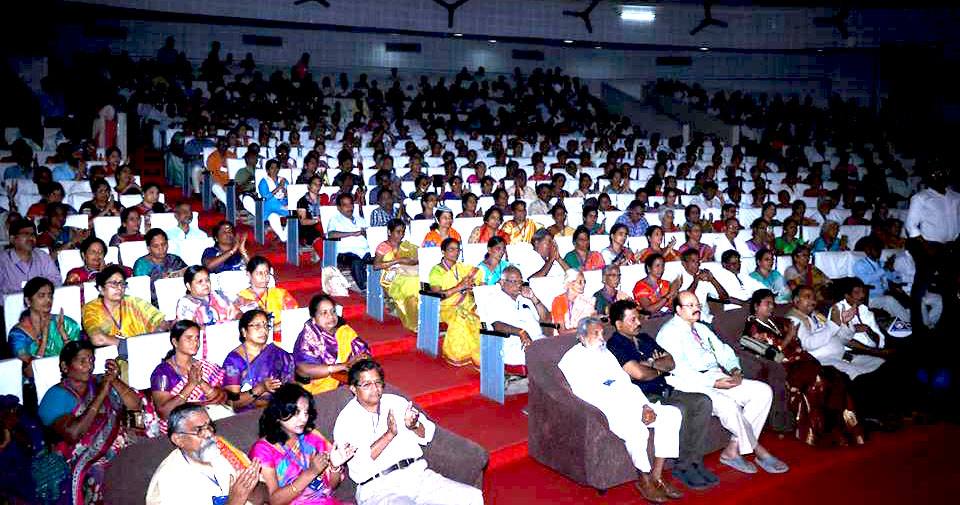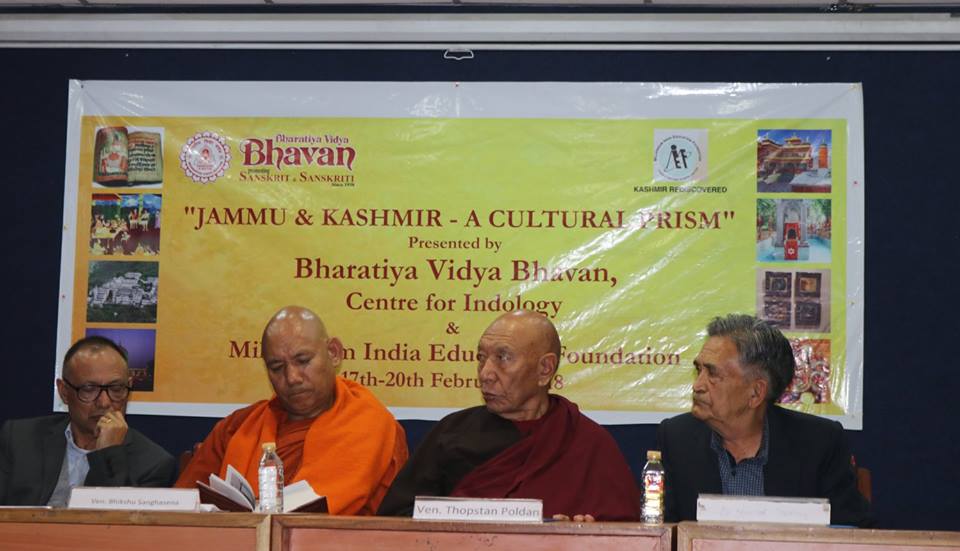 A three-day academic-cum-cultural event "Jammu, Ladakh & Kashmir - A Cultural Prism", jointly organized by Centre of Indology, Bharatiya Vidya Bhawan and Millennium India Education Foundation was inaugurated by Union Minister Dr Jitendra Singh on the 17th of Feb,2018 & concluded on 20th of Feb, 2018. Bhikkhu Sanghasena was invited to preside over the valedictory function of the event. Number of Ladakhi Scholars such as Ven. Prof. Thupstan Paldan, Shri. PP Wangchuk- Senior Journalist from Hindustan Times, Dr. Nawang Tsering, Shri. Sonam Wangchuk Shakspo and Shri. Nawang Tsering Shakspo also spoke on the occasion.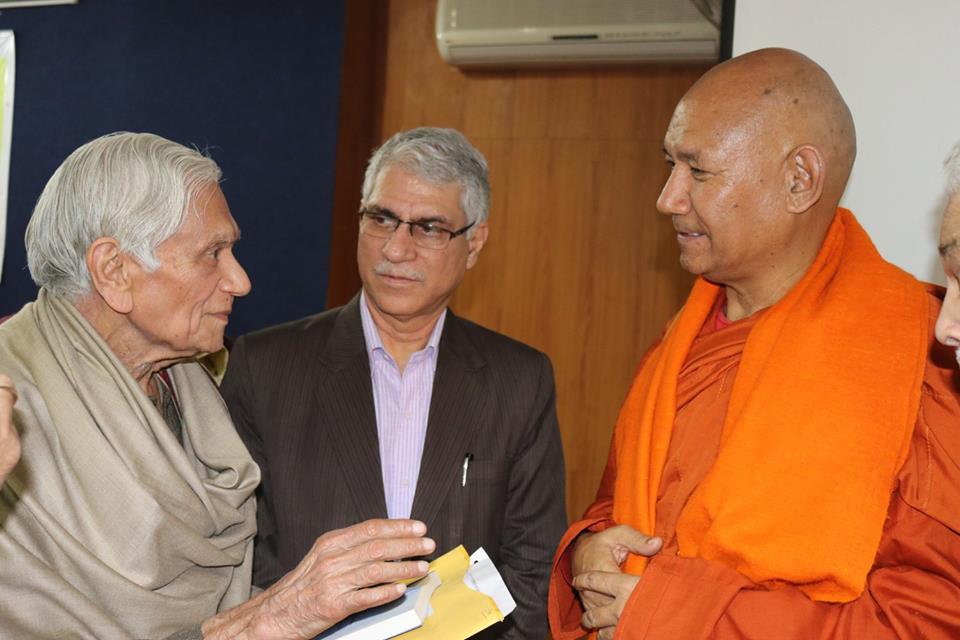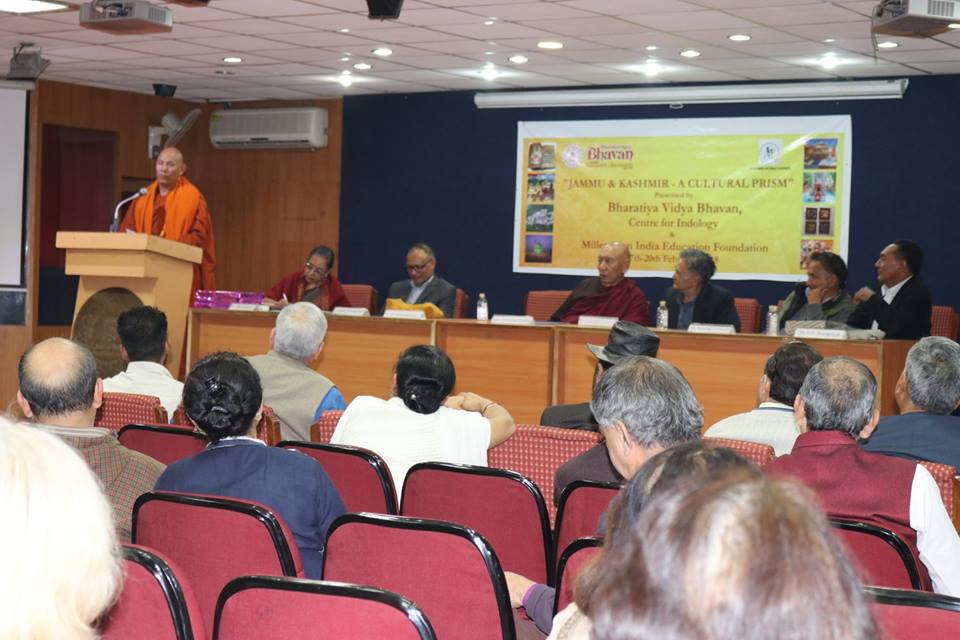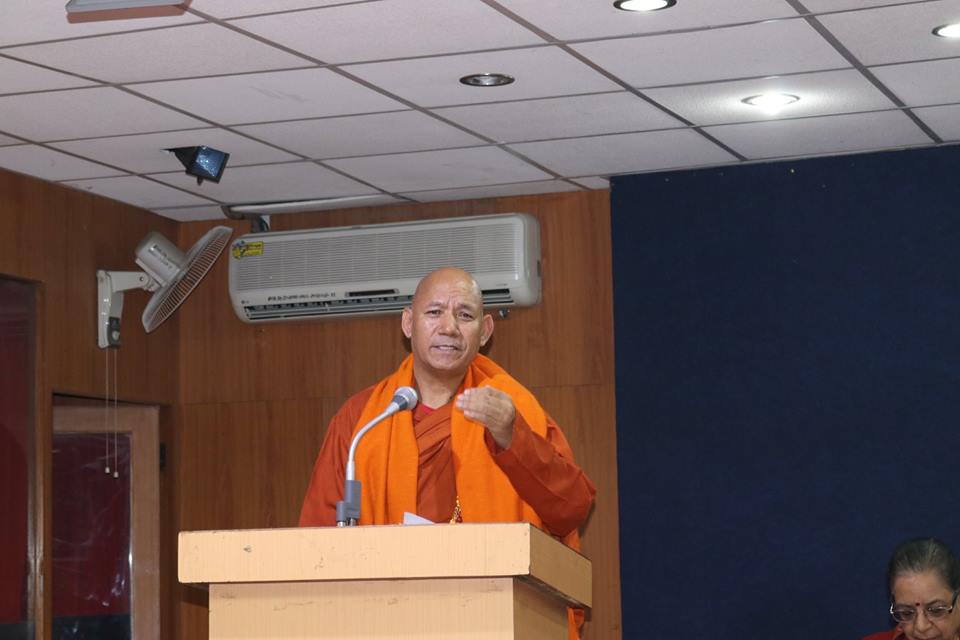 He expressed his deep appreciation to Dr. Sashibala, Dean, Centre for Indology Bhartya Vidya Bhavan, New-Delhi and the Faculty members for organising this seminar of Jammu, Ladakh and Kashmir. He honoured Dr. Sashibala and the Faculty members by presenting a Khatag and a statue of Lord Buddha.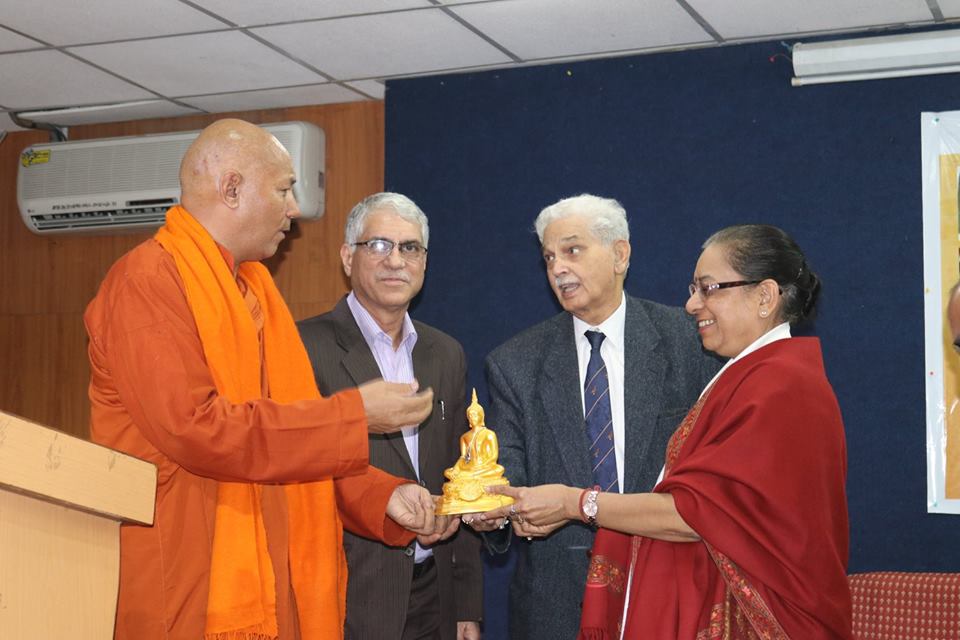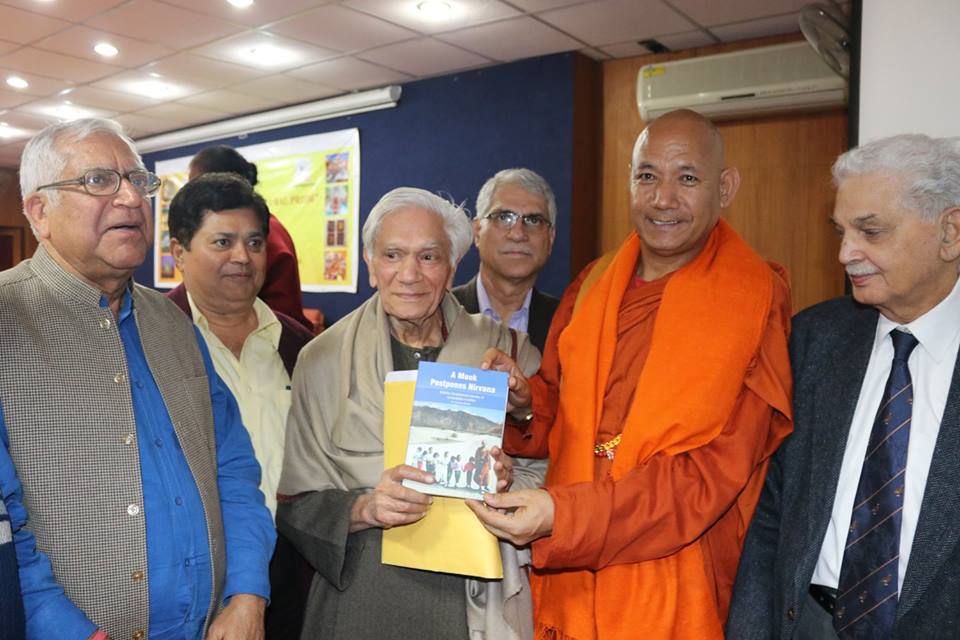 In his address Bhikkhu Sanghasena said "Ladakh is the jewel crown of India and strategically also very important. Ladakh has not received due attention from the government of India... Ladakh has got its own unique cultural identity which must be promote and preserve. Ladakh cannot be allowed to be like a cheese in between the Sandwich – Jammu & Kashmir. Ladakh is the Head of the Country and if you neglect the Head, then obviously Headache will develop"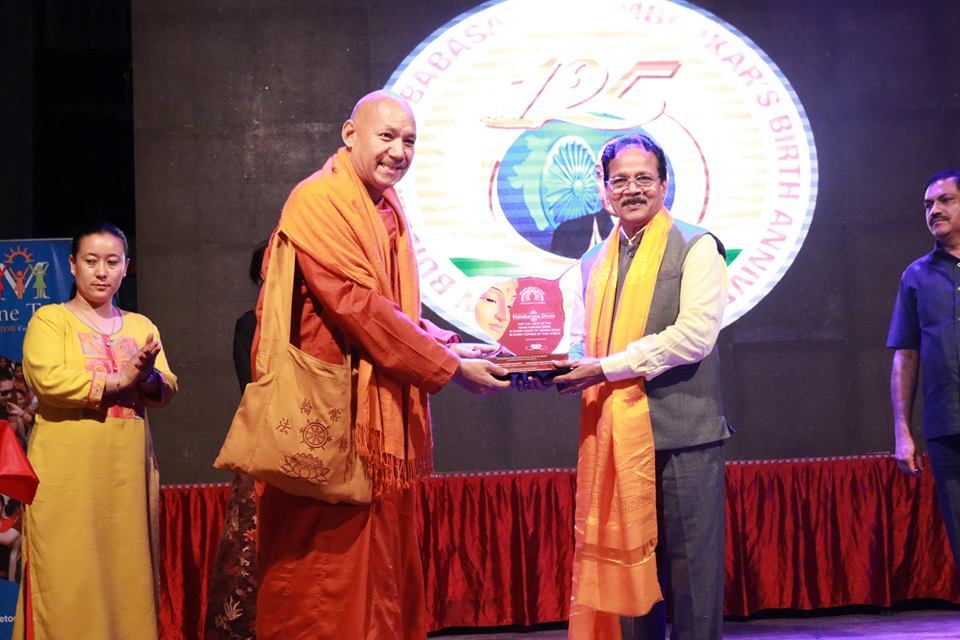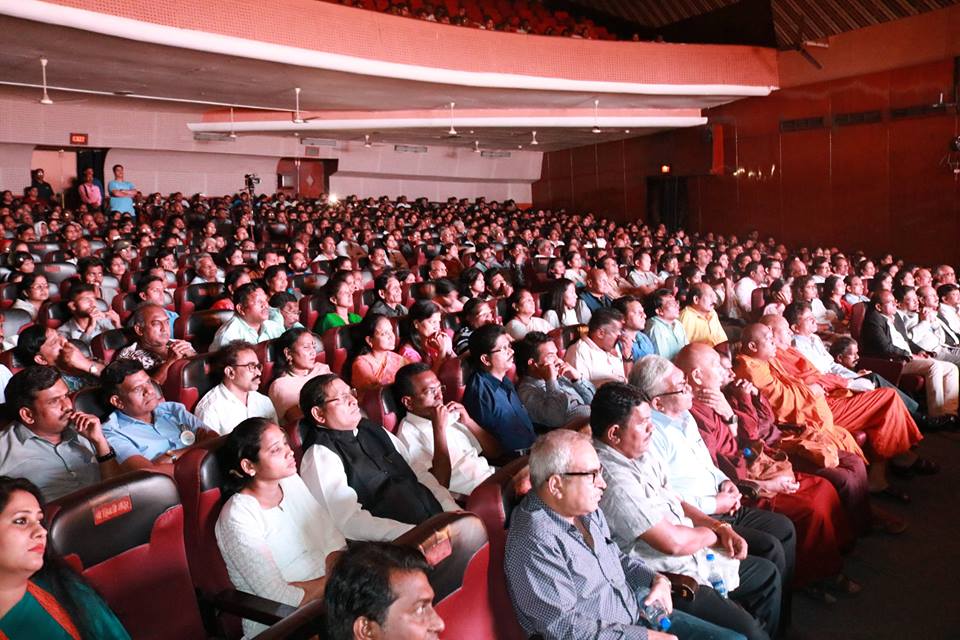 In pursuance to promote world peace, Mahabodhi International Meditation Centre and Mahakaruna Foundation have been organzizing Mahakaruna Diwas celebration since 2013. Spurred on by this great success of Mahakaruna Diwas, Last year the event was organized in eight mega cities of India and in several countries in South East Asia and Europe. Considering the tremendous positive response received from all the seekers of truth and lovers of peace, Bhikkhu Sanghasena, the man behind the conceptualizing this great phenomenon decided to carry forward into 2018 too.
Mahakaruna (Great Compassion) lies at the heart-centre of our vision and mission at our organization and with this as our guiding principle, we have decided to continue to carry Mahakaruna Diwas forward. Thus Mahakaruna Diwas 2018 was held in Mumbai on 24 and 25th February. Shri Rajkumar Badole, Hon'ble Minister for Social Justice & Special Assistance, Government of Maharashtra was Chief Guest on this auspicious occasion. Many prominent government officials, Politicians, religious and social leaders with over one thousand audience have graced this propitious event. Among the large numbers of guests from Ladakh Padmashree Murup Namgyal and Dr.Thuptan Paldan have also graced the event.
In his welcome speech, Bhikkhu Sanghasena, the Chairman of the organizing committee of Mahakaruna Diwas and founder president of Mahabodhi International Meditation Centre, Leh Ladakh and Mahakaruna Foundation have explained how Mahakaruna Diwas; the great compassion in Action program can bring radical change in the world
"Mahakaruna (Great Compassion) lies at the heart-centre of our vision and mission and with this as our guiding principle, with a firm and full conviction, and an unyielding faith in the transformative power of Mahakaruna. We have decided to continue to carry it forward year-on-year.
Mahakaruna, as a fully-embodies and highly active personal and social transformation program, is yet another important initiative of ours to address the many challenges and threats that face our world today-from sectarianism, violence, poverty, hunger, disease, environment degradation, excessive consumerism, and so on.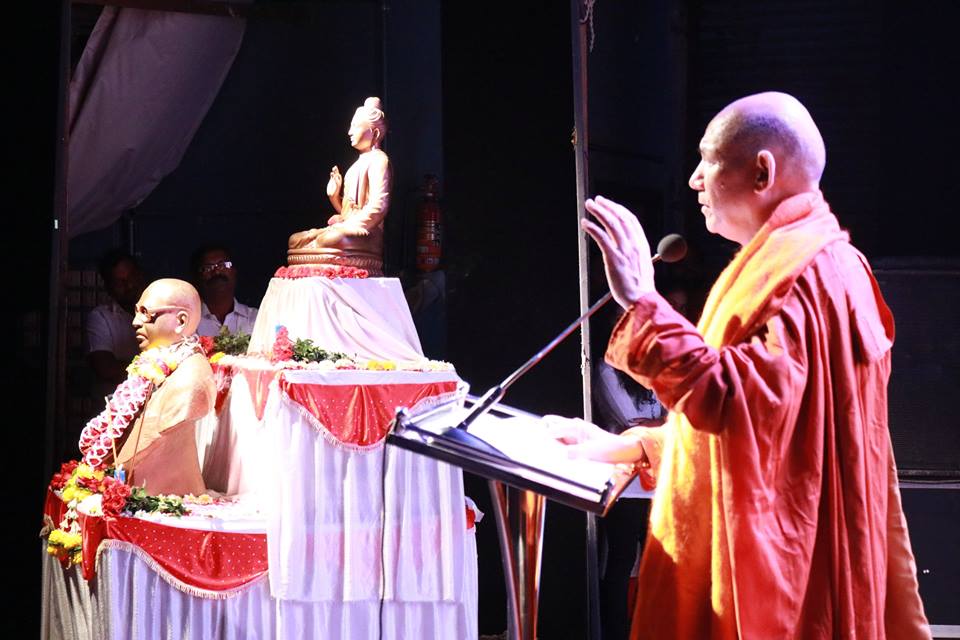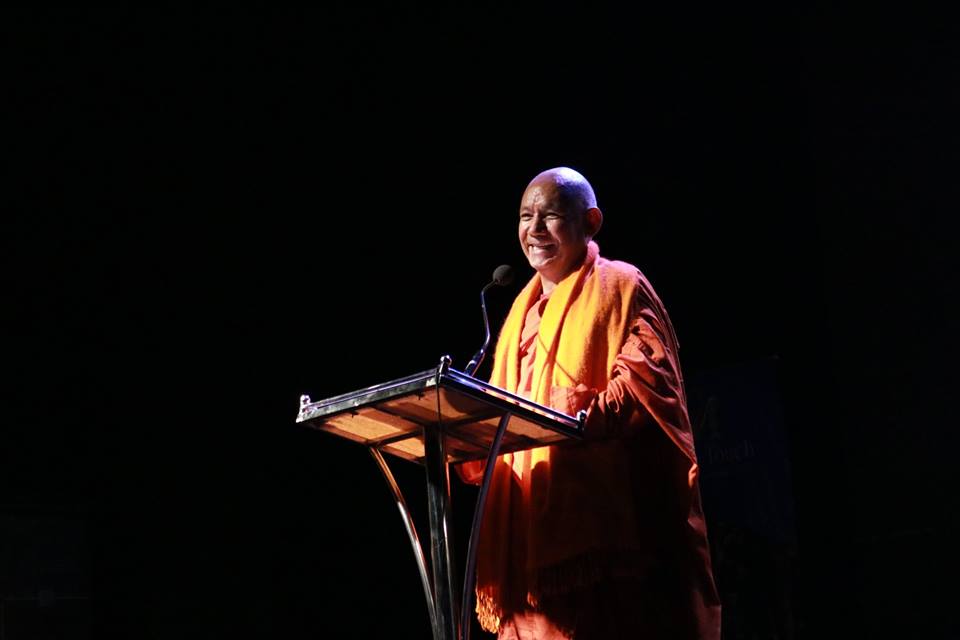 My vision, through Mahakaruna Diwas is to raise public awareness and recognition of the priceless value of unconditional, universal and all inclusive great compassion not only for human beings but for the whole existence-going beyond all kind of boundaries of nationalities religions, races and colors, thus opening the heart and embracing all; this phenomenon alone can save the world and the humanity from going further destructions.
Mahakaruna, expressed through compassionate action, is an urgent call to take care of our planet Earth, our follow living beings, our human society, so that the air remain pure, the water remain clean, the tree remain green, the animals remain on this earth, and we all come to peacefully co-exist, with joy and well-being, on this very planet, which we call "home".
When we take time to calm our mind, to reflect upon our sense of shared humanity, we are powerfully reminded that the whole 7 billion plus people who lives on this planet Earth are intimately interconnected and deeply interdependent. Recollecting what it truly means to be "human", our shared humanity, and our inter-relatedness with the living environment that surrounds and sustains us, the most urgent and pressing needs of our time is clearly Mahakaruna- Great Compassion, which has the power to transform all before it.,
Mahakaruna–Compassion in action is intend to empower, educate and energies individuals to create the largest community in the world taking action through compassion."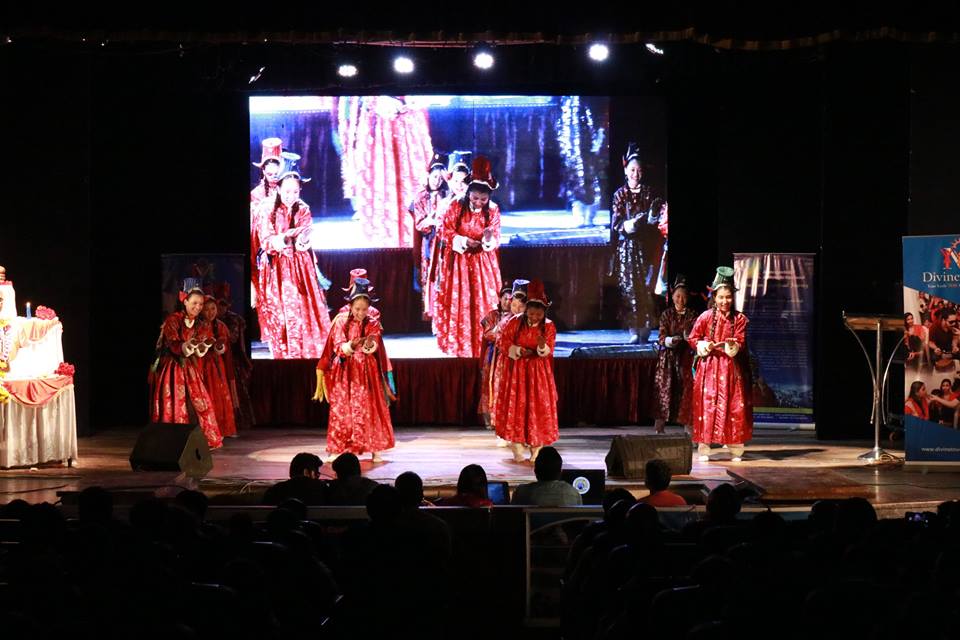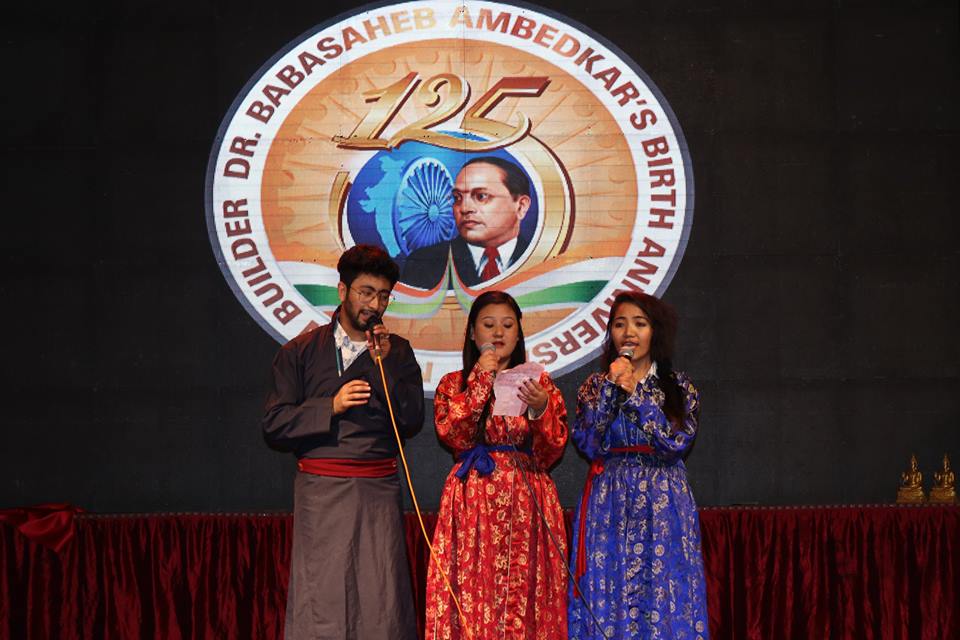 A group of 21 youth members; 11 young members from Mahabodhi youth wing, Ladakh and 10 members from Maharashtra were selected for Jambodhipa-Suvernabhumi youth exchange program in Malaysia, Singapore and Thailand. Bhikkhu Sanghasena, Dr.Harshadeep Kemble, Madam. Rojana along with the special guests on the dais blessed the youth members by handing over the traveling documents to the each youth member.

A group of 30 young cultural artists, drawn from the Mahabodhi residential school from Ladakh, their celestial music and divine dance presented series of gorgeous and fascinating programs on the message of Mahakaruna which thrilled the entire audience of Mumbai!
A one day Mahakaruna Meditation camp was also organized in the beautiful; Mighty Universal majestic building Chembur, Mumbai. It was truly something very special for the stressful and fast moving people of Mumbai to seat down quietly and to experience the dose of inner tranquility. Bhikkhu Sanghasena lead the meditators step by step to the core of life where for a short while meditators transcended the confused and chaos material world and enjoyed the inner happiness and peace. Many of the meditators have expressed wish to go Ladakh to join longer course of meditation at Mahabodhi international meditation Centre.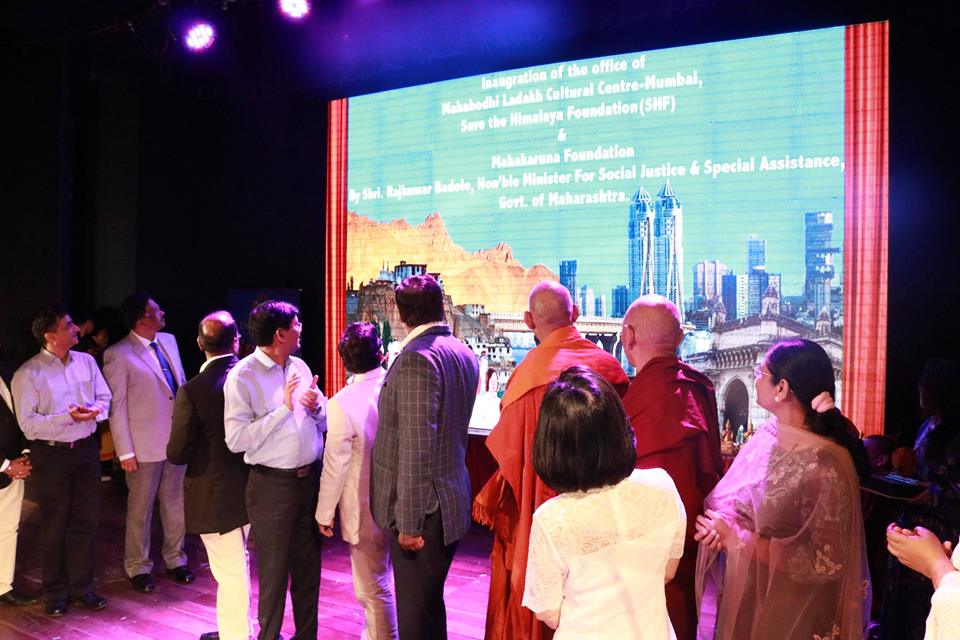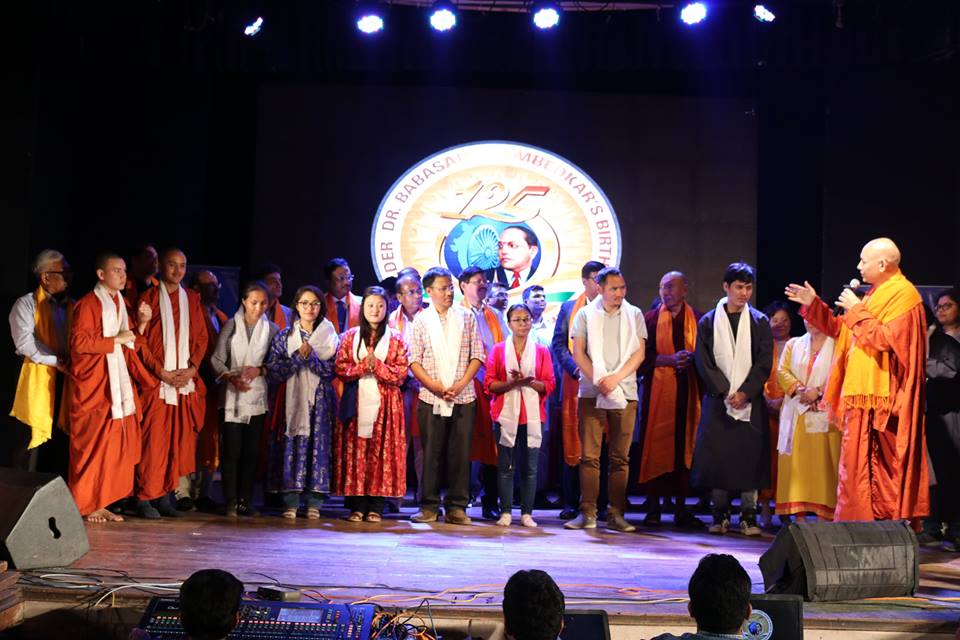 Bhikkhu Sanghasena says frequently "Meditation is experiencing Buddha-hood within oneself and compassion is radiating the fragrance of that Buddha-hood in all direction."
During the Mahakaruna day celebration, the office of Mahabodhi Ladakh Cultural Centre (MLCC) in Bombay was also inaugurated by the Chief Guest. Mahabodhi Ladakh cultural Centre (MLCC), Bombay will organize series of cultural exchange programs. The secretary of the Maharashtra tourism who was present at Mahakaruna Diwas has expressed keen interest to take up series of programs in collaboration with Mahabodhi Ladakh Cultural centre. MLCC will strengthen and widen the bridge between the people of Mumbai and Ladakh.
The chief guest and all the distinguished dignitaries have expressed deep appreciation to the great work being done by Bhikkhu Sanghasena.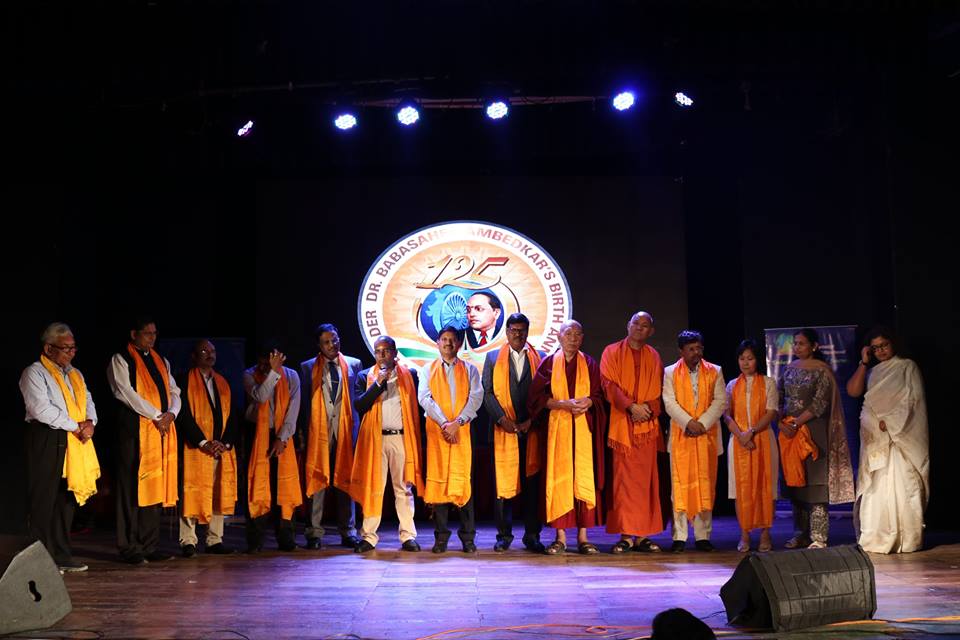 A documentary film on the life and work of Bhikkhu Sanghasena titled "Bhikkhu Sanghasena, the silent reformer" was also screened during the program. Dhamma books and Buddha statues were also distributed during the Mahakaruna Diwas.
We like to thank Dr. Harshdeep Kamble, the President of National builder Dr. Babasaheb Ambedkar Vichar Mahotsav samiti, Mumbai and members and volunteers of his organization for their unreserved support in making Mahakaruna Divas a great success.
We also like to express our gratitude Dr. Sanjay Bosele and Mr Pravin Kadam for very generously providing office space for Mahabodhi Ladakh Cultural Centre, Mumbai at Universal Majestic Building, Chembur, Mumbai.
May the Mahakaruna-unconditional compassion spread into every corner of this globe.