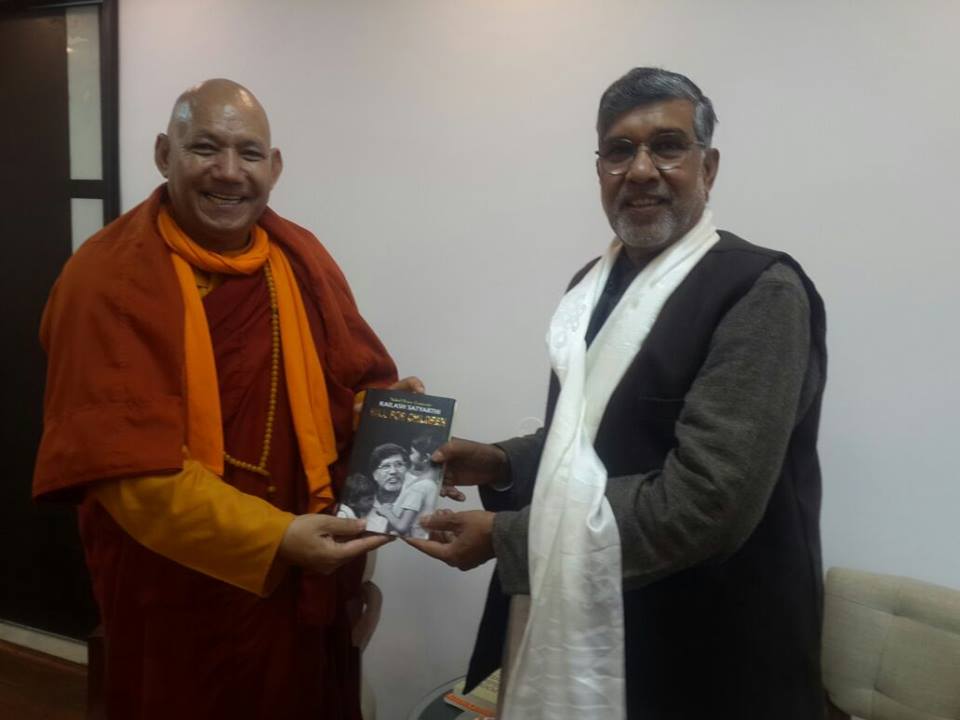 Most Ven. Bhikkhu Sanghasena met the notable Nobel Peace Laureate Sh. Kailash Satyarthi on the 27th of January Ven. Bhikkhu Sanghasena extended an invitation to Sh. Kailash Satyarthi to grace and participate in the Mahakaruna Day - Compassaon 2017 event being organized by MAHABODHI INTERNATIONAL MEDITATION CENTRE(MIMC), Leh, Ladakh in New Delhi on the 4th of February 2017. During the meeting, the two visionaries shared about the various humanitarian activities and ground-breaking projects initiated at each other's spheres. Ven. Bhikkhu Sanghasena also briefed Sh. Kailash Satyarthi about the various humanitarian activities undertaken by MIMC at Leh Ladakh and beyond Himalaya and his recent ventures on globalization of Compassion for children. Realising the fact that the two have been working on similar objectives, mission and vision ever since conceptualization, visualization and materialization, the two have decided to join hands and work together in the future for the propagation of Globalisation of Compassion in Action for the benefit of the needy and underserved section of the society, especially the deserving children. Ven. Bhikkhu Sanghasena also appreciated Sh. Kailash Satyarthi for his outstanding work and congratulated him for well-deserved acknowledgement and recognition received by him.
Read more: Ven. Bhikkhu Sanghasena met Nobel Peace Laureate Sh. Kailash Satyarthi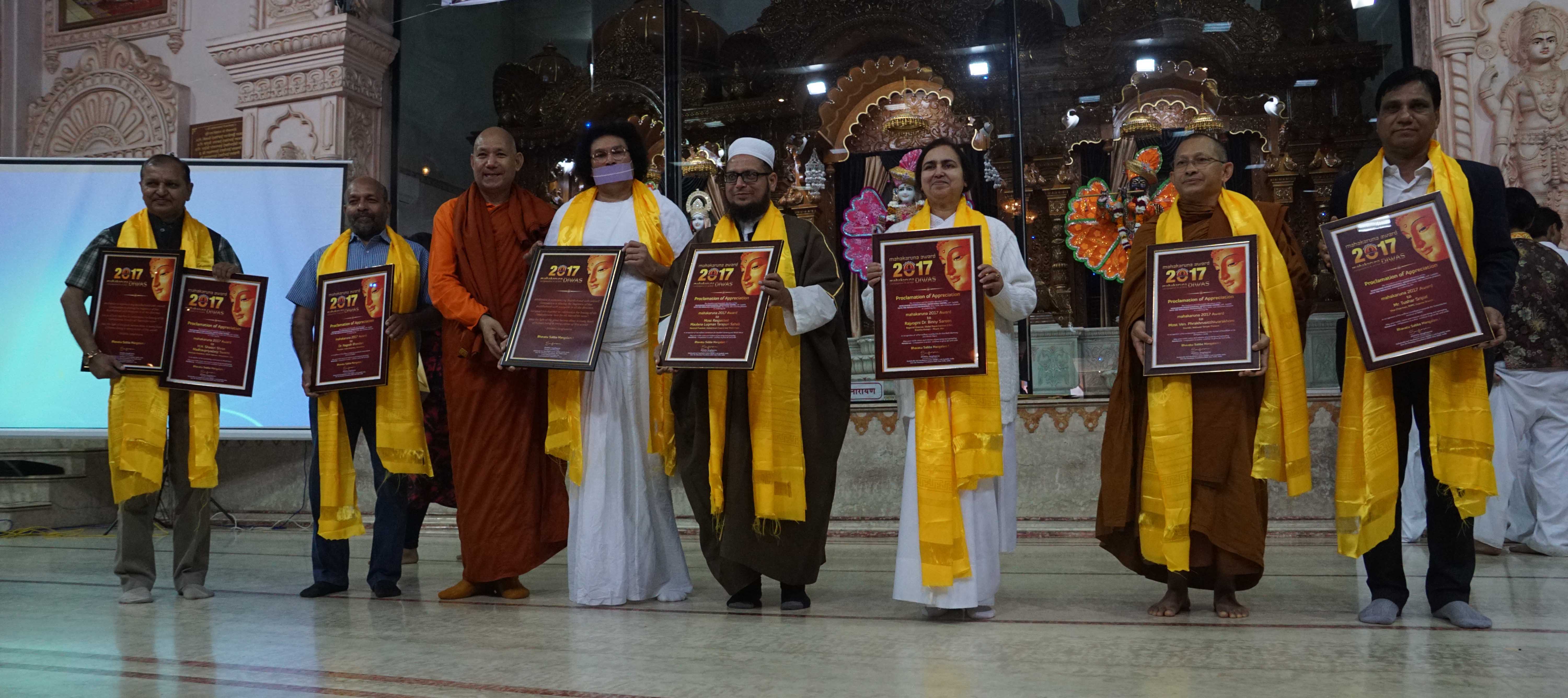 The 2017 Mahakaruna Day was inaugurated in the beautiful Ashram of SGVP Gurukul Parivar in Ahmedabad by His Holiness Acharya Dr. Lokesh Muni and honourable minister. All religious leaders from different faith including Ven. Monks from Thailand and respected politician and the large number of people had joined the celebration. The honorable minister and all the distinguish speaker highly praise to Ven. Bhikkhu Sanghasena who had initiated this most urgently needed MahaKaruna (compassion in Action) to promote harmony peace and good understanding among the people. The students from Mahabodhi Residential School also presented a mesmerizing cultural performances on the Mahakaruna Day. On this occasion the student from SGVP International School also presented beautiful cultural performances. Earlier the MIMC students had a wonderful cultural exchange programme with the student of #SGVP. Our student also received certificate from the SGVP School for their Participation in the 10 day Long Cultural Exchange Program. The Students were also invited to Divyapath School, Mahatma Gandhi international school and Indus University. They also visited Idar town of Gujarat where Ven. Bhikkhu Sanghasena gave an inspiring Dhamma talk to devotees, the Student also presented beautiful culture performances. Ven. Bhikkhu Sanghasena and the whole team expressed their heartfelt thanks and gratitude to Swami Mahavpriyadasji- The founder president of #SGVP, Swami Ramji and all the staff and member of SGVP for their unconditional love and support in making this Mahakaruna Day event a Grand Success.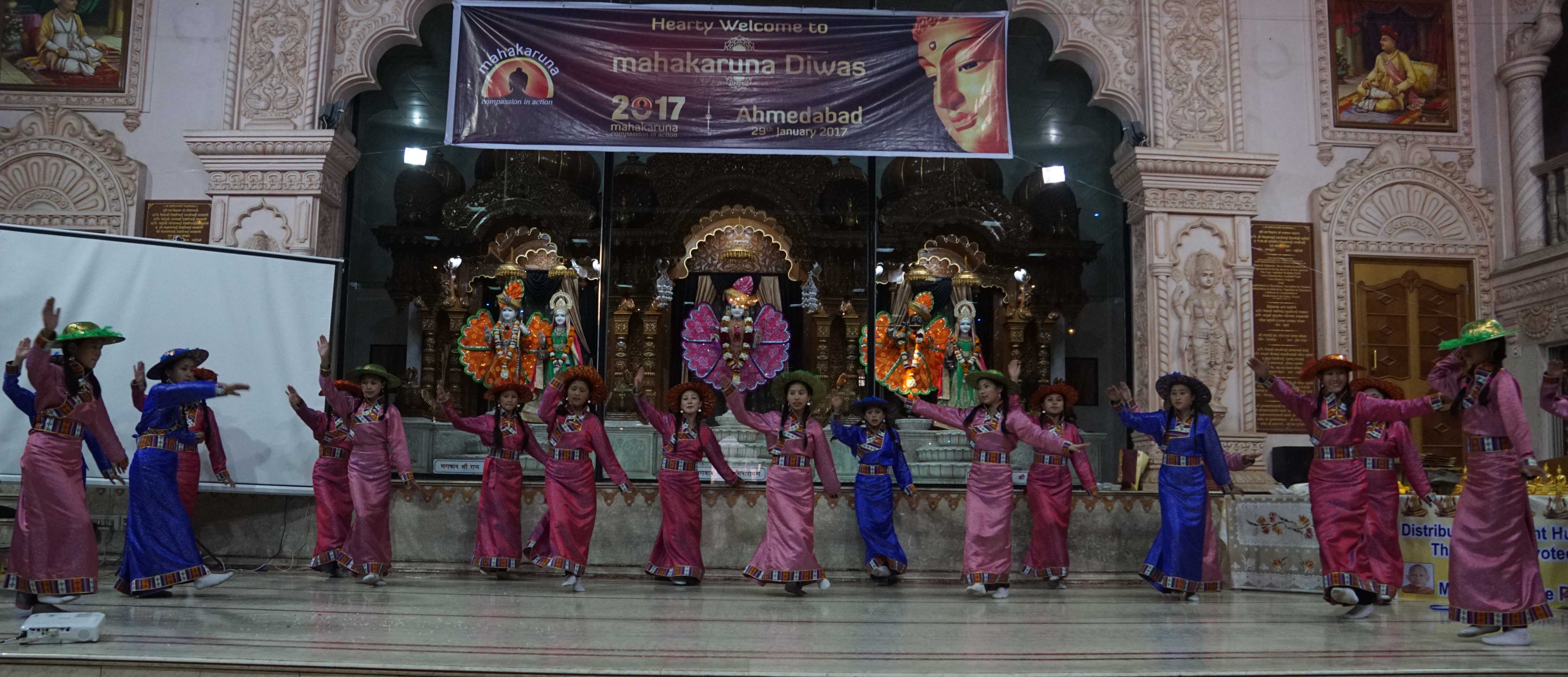 Along with the rest part of the country, the 68th Republic Day was celebrated at the historic polo-ground Leh with patriotic feeling and cultural displays. The Chief Executive Councillor CEC, Ladakh Autonomous Hill Development Council (LAHDC) Leh, Dr. Sonam Dawa unfurled the tricolor and took salute at an impressive parade presented by parade contingents of police, paramilitary forces and school children where many people drawn from all walks of life to attended the main function braving biting cold.
Tableaux by Information Department & Cultural Academy Leh, Health, Rural Development Departments and Municipal Committee Leh showcasing the rich cultural heritage of Ladakh and government schemes like MGNREGA and Swacch Bharat Abhiyan were also presented.. Our school student's Band Group and March Past group also participated and as usual bagged 3rd Prize making all of us proud… Congratulations....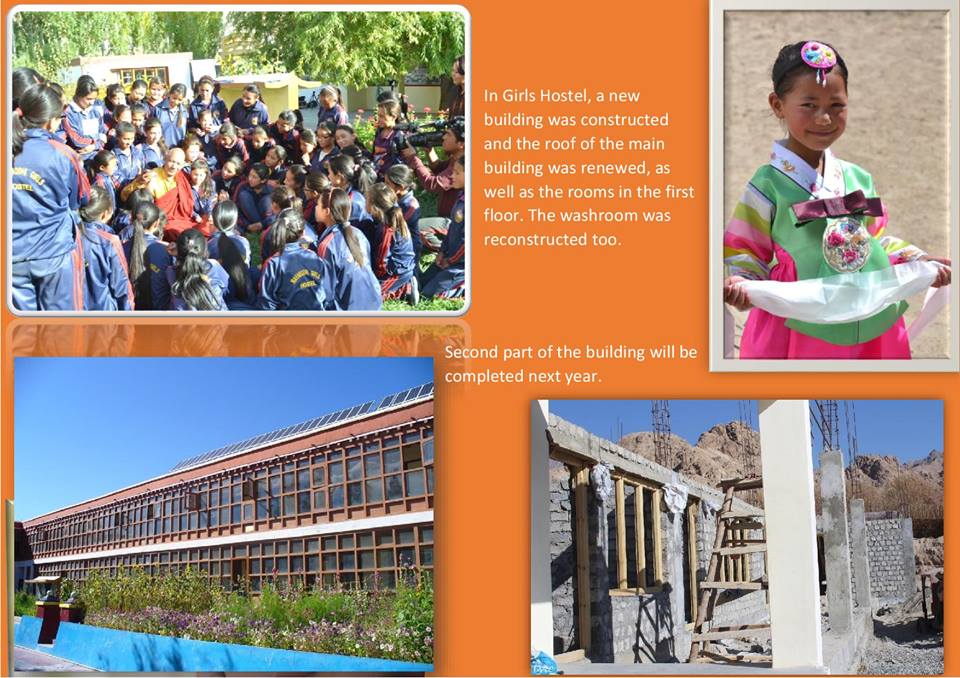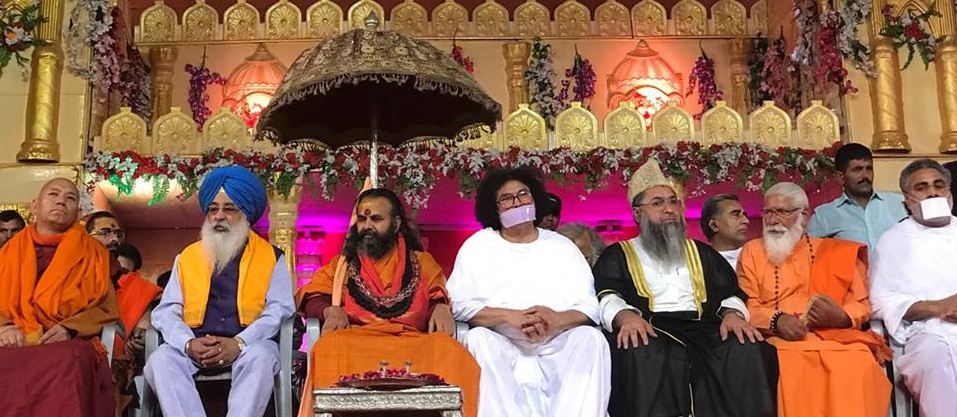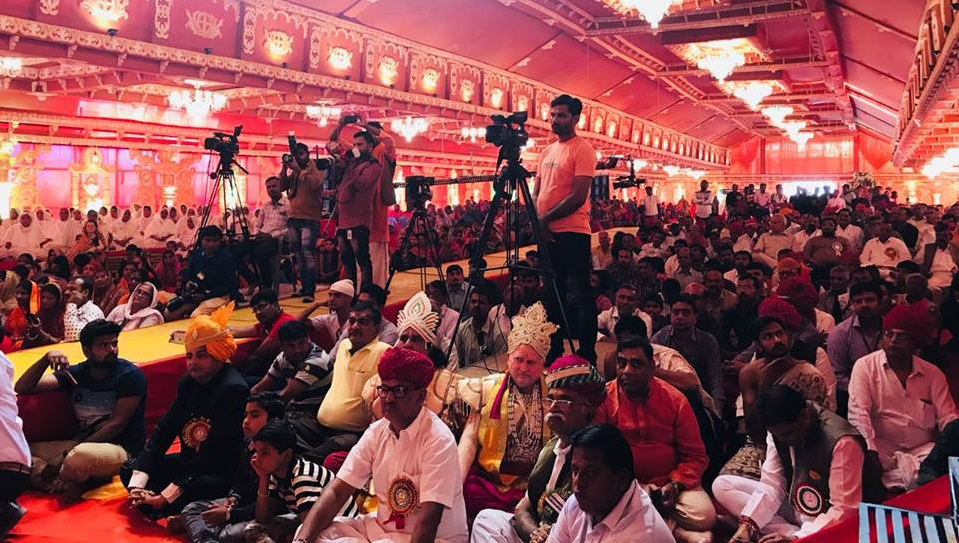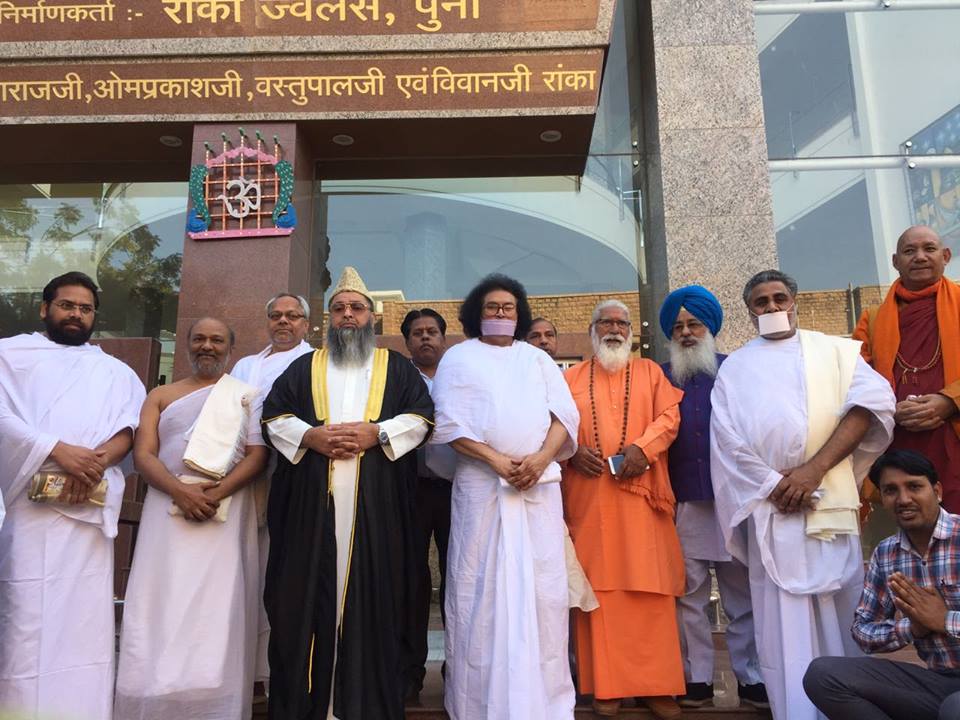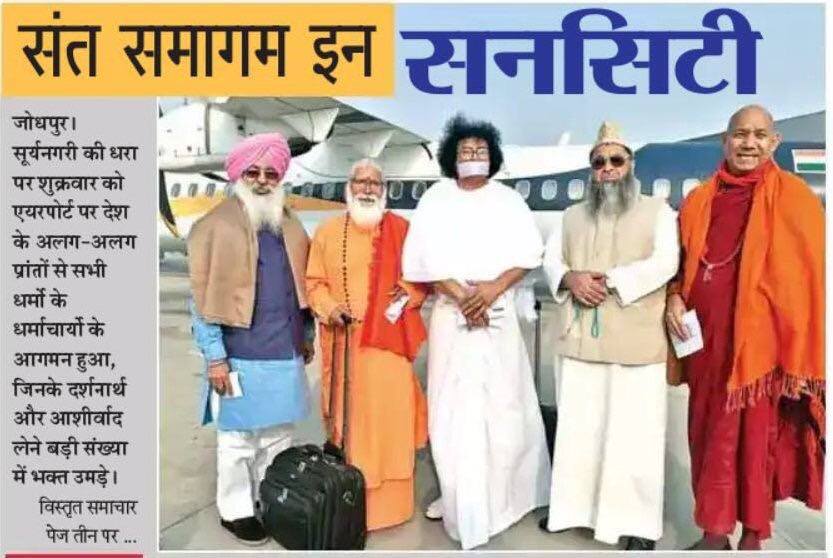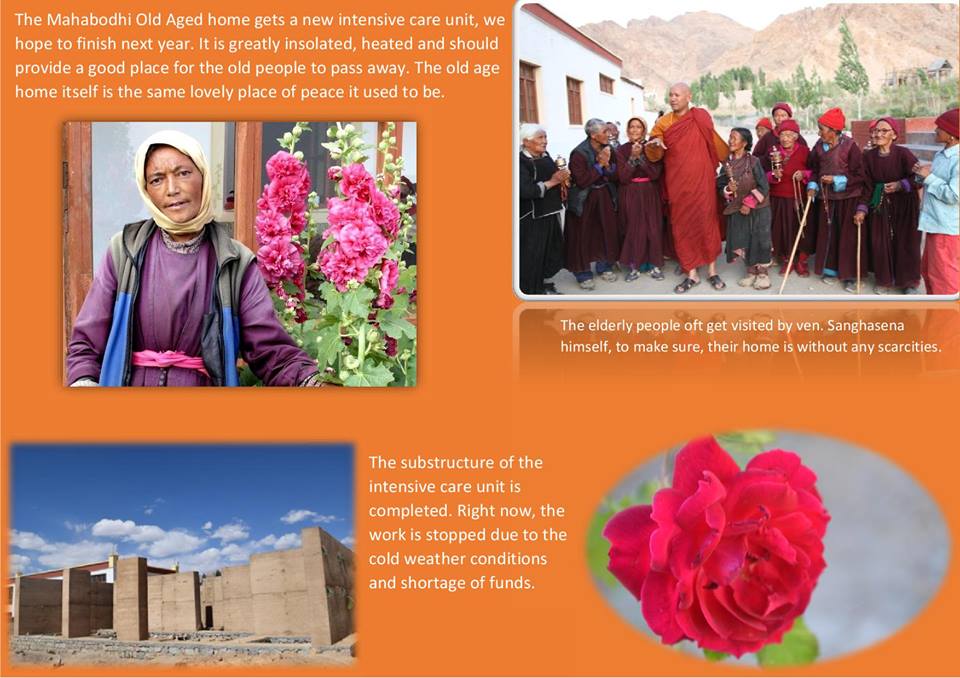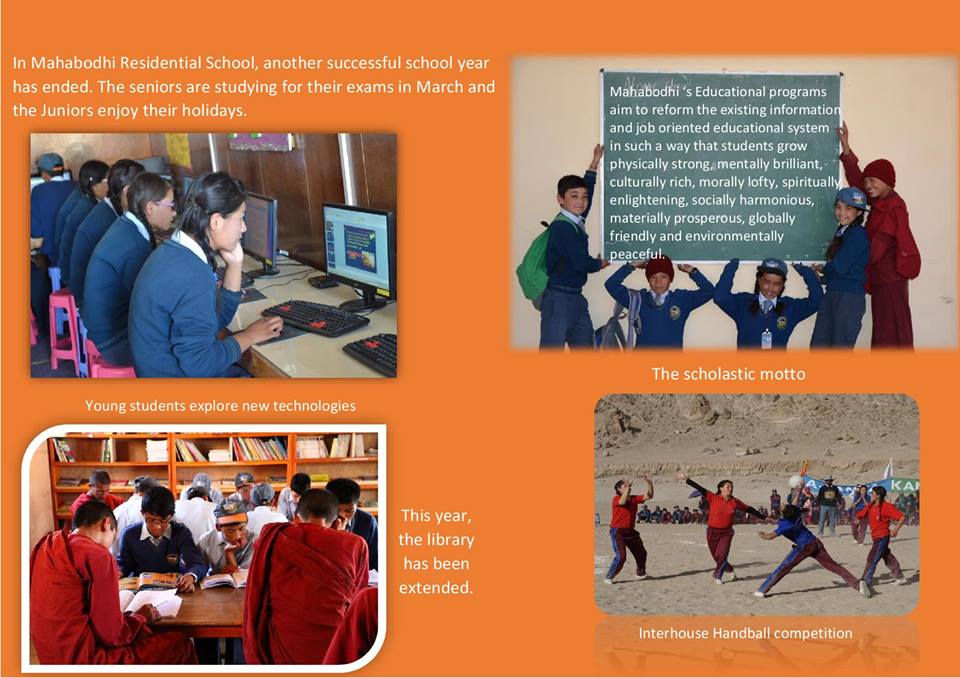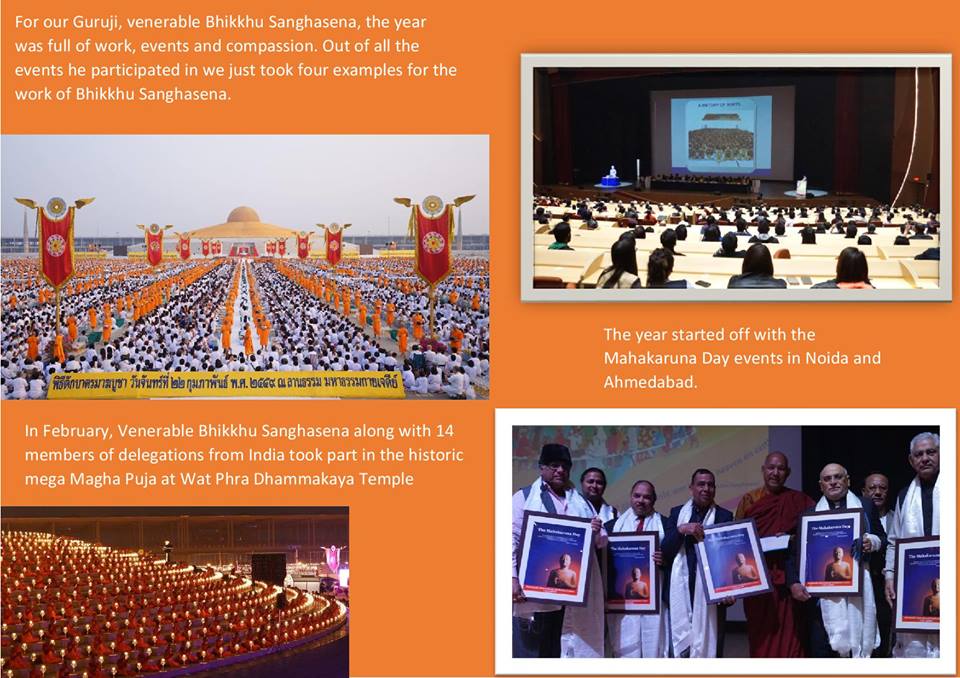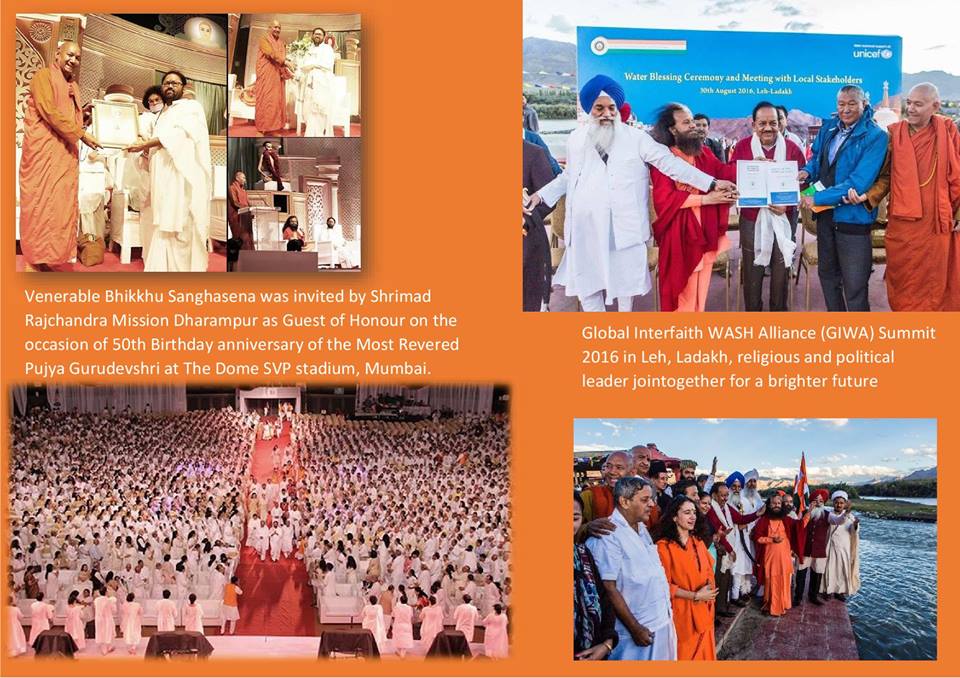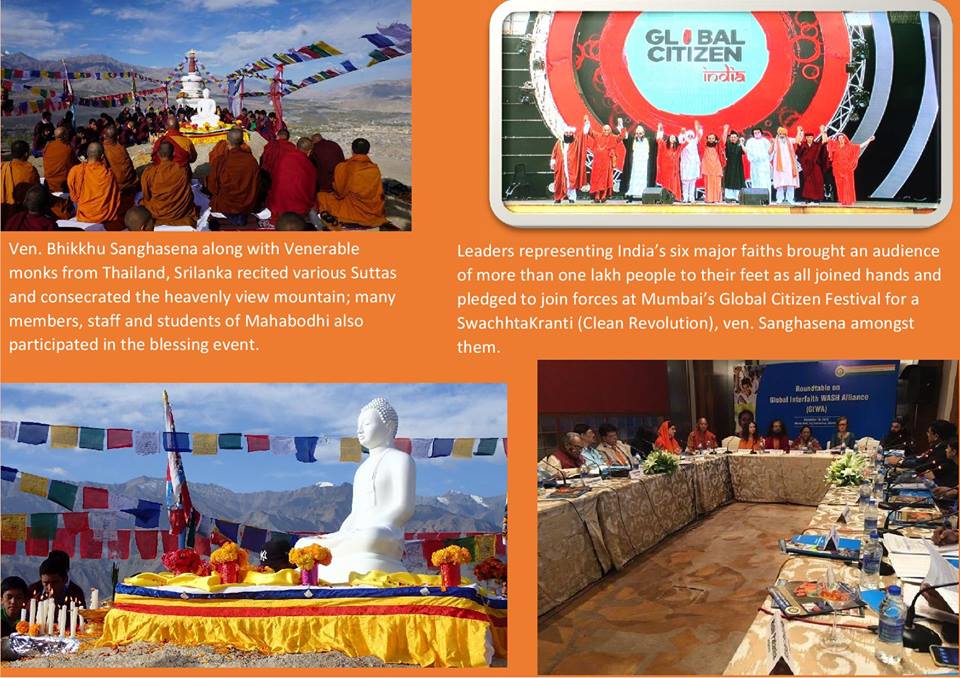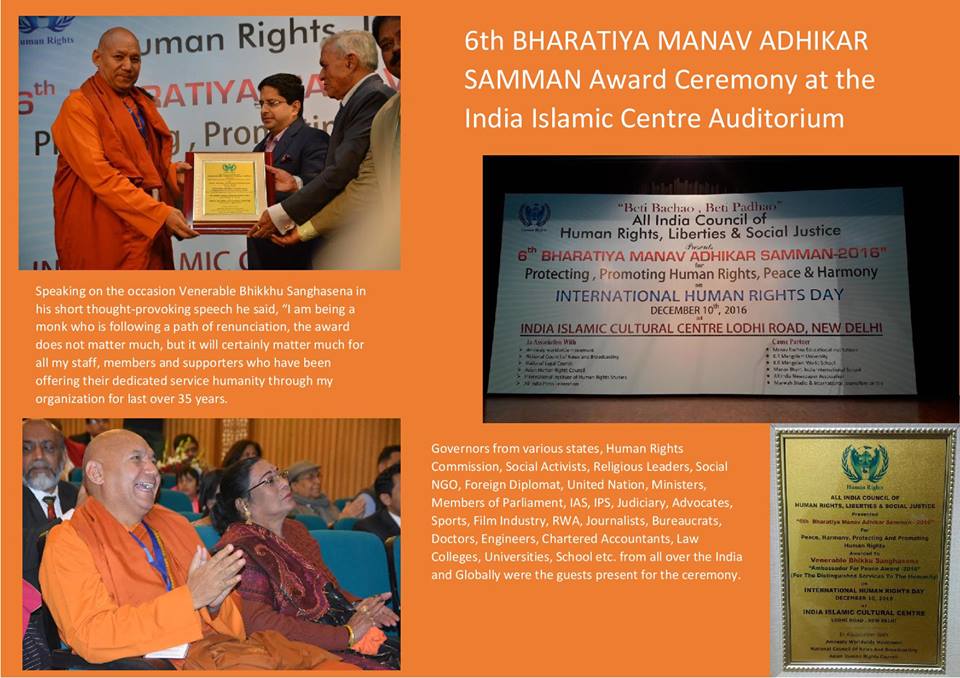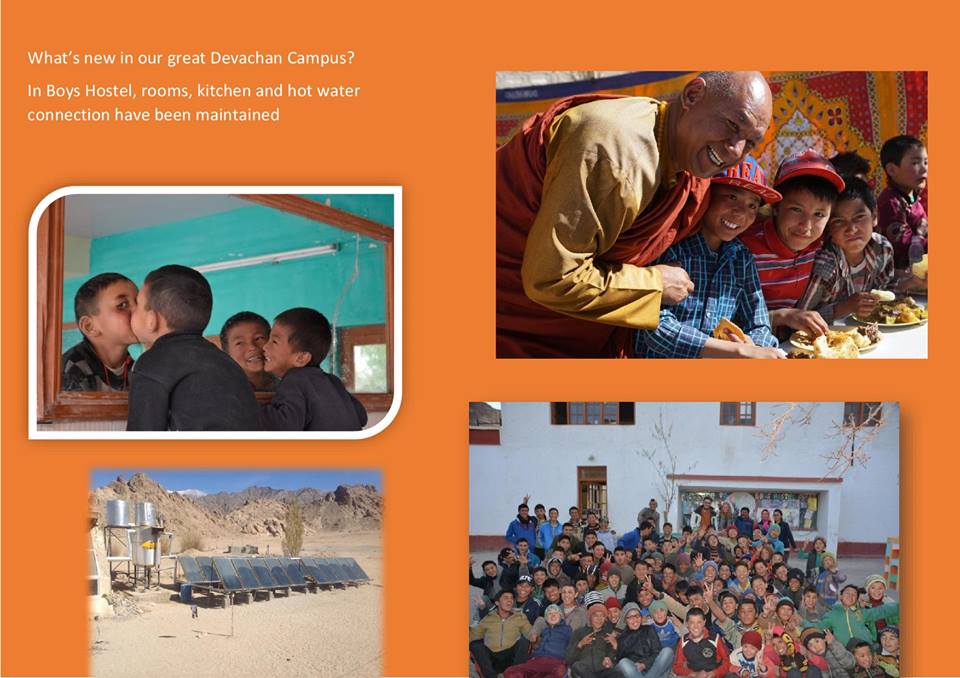 This was a brief report of the various humanitarian and spiritual activities done by MIMC. I hope you will have some time to go through the Newsletter and will be impressed by the good work done at MIMC Ladakh.
We would like to thank you all for your gracious support.
May you all be well and happy.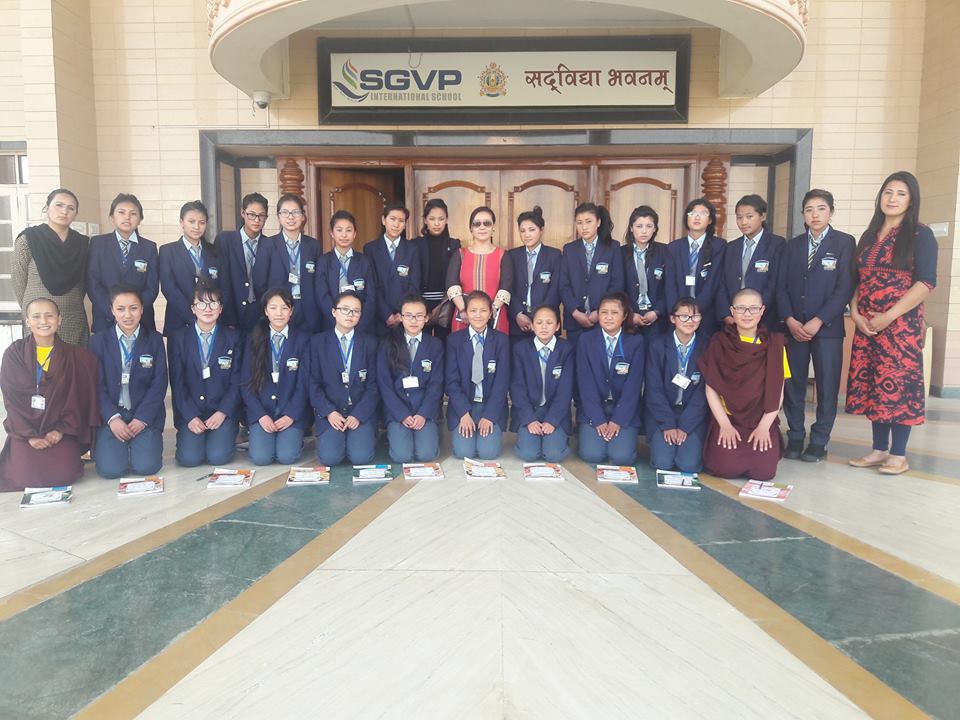 30 Students and 2 nuns from MAHABODHI INTERNATIONAL MEDITATION CENTRE, Leh-Ladakh founded by Ven. Bhikkhu Sanghasena Visited SGVP Gurukul Parivar Gurukul School
A warm welcome and reception at the morning assembly by Sh. Jaydev Sinh Songara, the Executive Director of SGVP International School, Sh. Arjun Acharya, Principal DSM, Ms. Sunita Singh, the Principal of SGVP International School, teacher and students of SGVP international school. There was a Cultural exchange during the programme in which the children's from Ladakh presented a traditional dance in their traditional dresses and school uniforms.
Two close friends Ven. Bhikkhu Sanghasena the founder of MAHABODHI INTERNATIONAL MEDITATION CENTRE and H.H Swami Shastri Shree Madhavpriyadasji Maharaj, the founder of SGVP Gurukul Parivar had earlier discussed about this students exchange program during their various meetings at interfaith conferences on world peace, brotherhood and Karuna-Compassion.
The Gurukul children's and children's from Ladakh had some memorable Interactions and experience-sharing about their daily activities and classes. The students were impressed with all the different facilities such as the smart class, AC hostel, swimming pool, etc.
The students will be visiting the various educational complexes of SGVP Gurukul and historical places around Ahmedabad during their 10-day stay.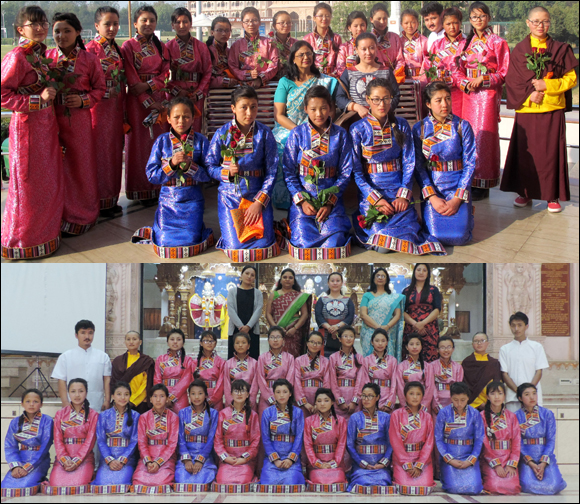 Mahabodhi Residential School Principal Tsewang Dolma said that along with moral values in our school curriculum we also provide the students with spiritual education.
We don't see any fear in us even though we live near the border of Pakistan and China. For we love India. We are proud of our country's heritage of Indian traditions and culture.
She thanked HH. Swami Shastri Shree Madhavpriyadasji for this chance of student exchange programs like this . The various arrangements of the students is taken care by Mr. Hemal Pandya with the blessings of Swamiji..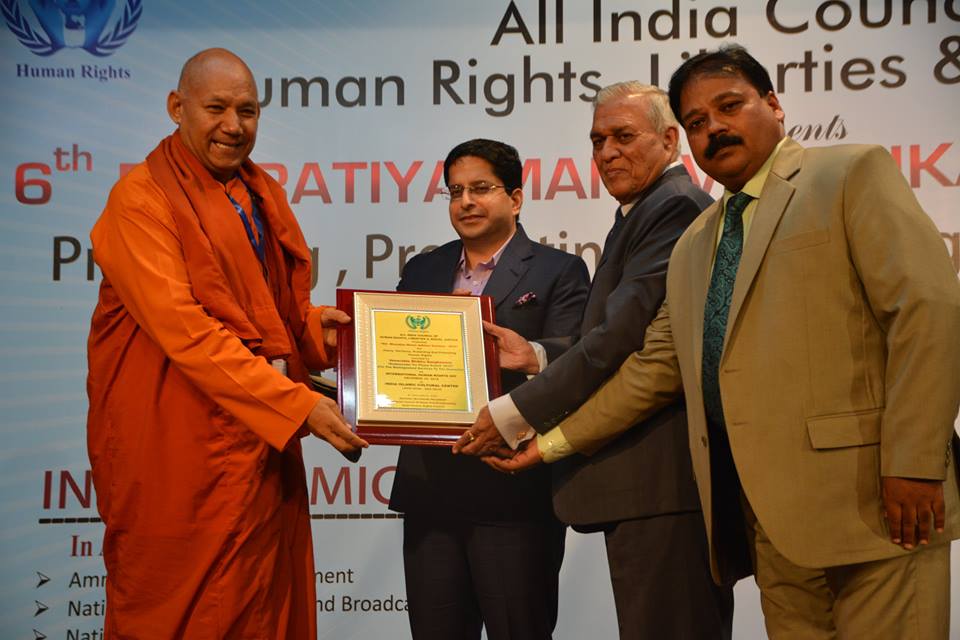 On the occasion of the International Human Rights Day 2016 and the 6th BHARATIYA MANAV ADHIKAR SAMMAN Award Ceremony at the India Islamic Centre Auditorium- New Delhi, on the 10th of December 2016, the All India Council of Human Rights,Liberties and Social Justice -(AICHLS) along with National Council of News and Broadcasting(NCNB), Asian Human Rights Council (AHRC) , Amnesty Worldwide (AW) , Universal Mission For Peace And Harmony (UMPH) And International Institute Of Human Rights Studies (IIHRS)" presented the prestigious "Ambassador for Peace Award- '2016" to Most Venerable Bhikkhu Sanghasena Maha-Thera Founder President and Spiritual Director of MAHABODHI INTERNATIONAL MEDITATION CENTRE, Leh Ladakh for his outstanding contribution for Peace , Harmony , Protecting and Promoting Human Rights and service to Humanity. The award is Human Rights Council's (AICHLS) most prestigious Human Rights Award given to Individuals/ World Peace Leaders / Business Leaders / Institutions / Organizations / Corporate, who show exceptional leadership in the fight to protect and promote Human Rights and service to humanity. The award included the coveted institutional and Prestigious International Human Rights Awards" The 6th BHARATIYA MANAV ADHIKAR SAMMAN – 2016" along with a "CERTIFICATE OF EXCELLANCE".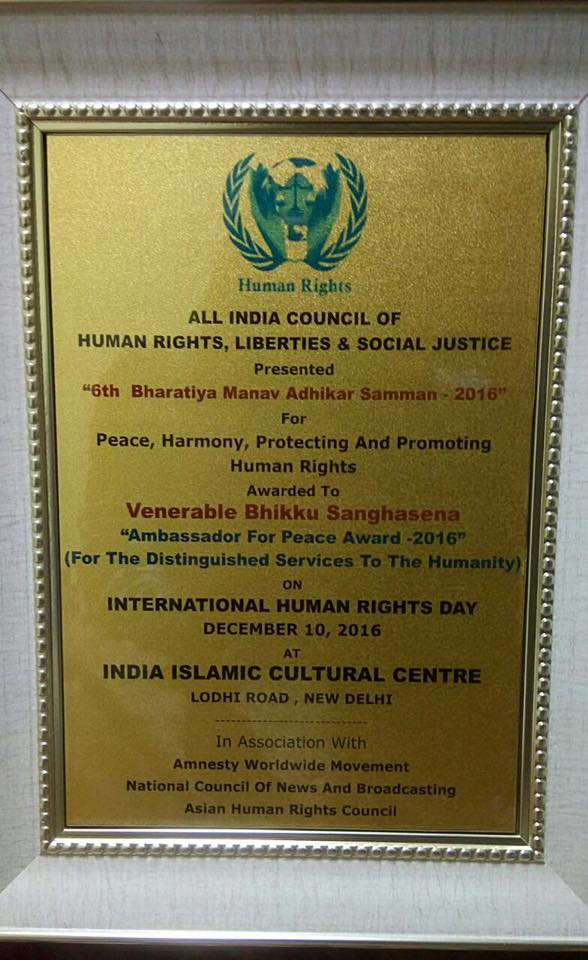 Governors from various states , Human Rights Commission , Social Activists, Religious Leaders, Social NGO, Foreign Diplomat, United Nation, Ministers , Members Of Parliament , IAS , IPS, Judiciary , Advocates ,Sports, Film Industry , RWA , Journalists , Bureaucrats , Doctors, Engineers, Chartered Accountants, Law Colleges, Universities, School etc. from all over the India and Globally were the guests present for the ceremony.
Speaking on the occasion Venerable Bhikkhu Sanghasena in his short thought-provoking speech he said, "I am being a monk who is following a path of renunciation, the award does not matter much, but it will certainly matter much for all my staff, members and supporters who have been offering their dedicated service humanity through my organization for last over 35 years. With all my humility, on behalf of the people of Leh Ladakh and all my dear supporters, staff members and friends, I will accept this prestigious Award and dedicate it to all those who are committed for peace, justice and human right". While expressing deep appreciation to the chairman and the board members of the NCNB for honoring all those who are rendering selfless service to humanity, he quoted the words from the Mahamangla Sutta- discourse of Lord Buddha " Honoring those who are worthy of honoring brings great blessings"….